CCJ's Indicators rounds up the latest reports on trucking business indicators on rates, freight, equipment, the economy and more.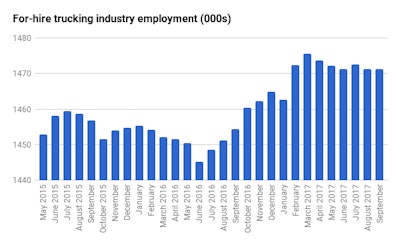 Trucking employment stagnant: Total employment in the for-hire trucking industry was nearly flat in September falling by 100 jobs, according to the Department of Labor's monthly Employment Situation Report.
Trucking industry employment has been stagnant most of the year, save for a few strong months in the first quarter.
The U.S. economy as a whole lost 33,000 jobs in the month, with the DOL blaming the impacts of major hurricanes Irma and Harvey on payroll employment stats. Though September's loss was the first monthly drop in seven years, the country's unemployment rate dipped to a 16-year low of 4.2 percent.
For-hire trucking industry employment totaled 1.4712 million, which doesn't account for private fleets and is based on companies' payroll employees. Compared to last September, trucking industry employment was up by 16,800 jobs.
The construction industry in September added 8,000 jobs. The manufacturing segment lost 1,000 jobs. The transportation and warehousing segment, under which trucking falls, gained 21,800 jobs in the month, with the transit and ground passenger transportation sector growing by 9,400 jobs and the warehousing and storage sector growing by nearly 5,000 jobs. Those gains are likely directly associated with hurricanes Harvey and Irma.
Shippers Conditions leaning in carriers favor: As capacity tightens and rates climb, the Shippers Conditions Index, a compilation of economic conditions affecting shippers, has declined into negative territory — usually a positive sign for carriers, particularly regarding rates negotiations.
So far, rate increases have been contained to the spot market, but that pricing pressure will soon drift to the contract market. FTR predicts its Shippers Conditions Index reading to continue to drop this year and into next year.
"Hurricane disruptions will slowly subside over the next month, but recovery activity will stay elevated for several months. Combine that with the upcoming ELD implementation, elevated fuel prices, and modest acceleration in overall freight demand, and we have a market that is likely to turn much more negative as we finish off 2017 and move into 2018," says FTR Chief Operating Officer Jonathan Starks.