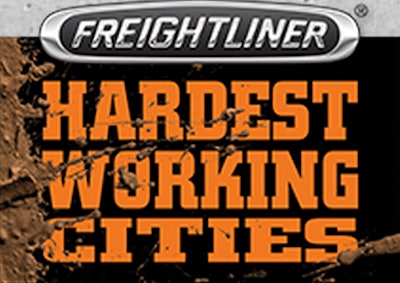 Freightliner Trucks earlier this month added Detroit to its list of Hardest Working Cities award recipients.
The company says its Hardest Working Cities winners are determined by a review of approximately 400 metropolitan census areas across 11 different key economic performance indicators, including unemployment rate, infrastructure investment and contribution to total GDP.
Freightliner says Detroit is the fourth city in North America for manufacturing employment. It is also among:
The top 10 percent of cities for heavy and tractor-trailer truck drivers and light truck and delivery
The top 10 percent of cities for number of transportation establishments
The top 15 percent of cities for contribution to U.S. GDP
The top 20 percent of cities for construction employment
"The city of Detroit is near and dear to Freightliner because of the legendary Detroit engines and drivetrains that power our trucks," says Allan Haggai, marketing communications manager, Freightliner Vocational Trucks.
More on Freightliner's Hardest Working Cities can be found here.