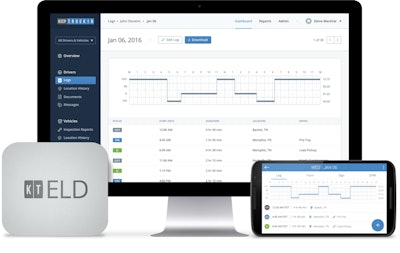 KeepTruckin, an electronic logs and fleet management platform supplier, made several product announcements this week.
The platform is now integrated with McLeod Software, a transportation management software for carriers, brokers and shippers.
KeepTruckin says its focus is to deliver the easiest to use and most reliable electronic logging device and fleet management system for trucking companies.
The integration of the KeepTruckin ELD with McLeod's TMS platform has the following features:
Remaining drive time is accessible within McLeod LoadMaster dispatch.
Dispatchers have full visibility into vehicle locations to provide accurate ETAs and find the nearest available driver for each load.
Dispatchers can communicate with drivers in real-time through the KeepTruckin App.
Dispatchers can use McLeod TMS to send detailed load instructions to drivers and drivers can complete forms to indicate progress, all within the KeepTruckin App.
The company announced that Total Quality Logistics, the 2nd largest freight brokerage firm in the nation, is partnering with KeepTruckin to provide its low-cost ELD to TQL-contracted carriers.
Through the TQL – KeepTruckin ELD promotion, drivers receive a 20 percent discount on the KeepTruckin ELD, which puts the starting price at just $16 per month. The KeepTruckin ELD comes with no upfront hardware costs.
"TQL is focused on offering carriers ways to simplify the many challenges drivers face every day," said Kerry Byrne, TQL President. "Just like the technology we develop in-house, we wanted to offer carriers the most efficient and reputable solution out there for ELD compliance, at a price they can afford."
TQL works with a network of more than 60,000 qualified carriers to match shippers needing to move truckload, LTL or intermodal freight shipments with available capacity. Established in 1997, TQL moves more than 28,000 loads per week.
In another announcement, freight marketplace DAT has entered into a partnership with KeepTruckin to help small carriers and owner operators comply with the FMCSA ELD mandate.
DAT evaluated a broad range of ELD providers, testing each device with multiple drivers and fleet managers.
"The combination of DAT and KeepTruckin gives owner operators and small carriers the best in class technology to run their business efficiently. ELD compliance is just the starting point. With the largest network of connected trucks in North America, KeepTruckin and DAT are building the freight marketplace of the future," said Shoaib Makani, CEO at KeepTruckin.