KeepTruckin has expanded the safety features of its mobile fleet management platform's optional Smart Dashcam.
The company has been selling Smart Dashcam since June 2018. KeepTruckin's electronic logging application is the mainstay of its platform. The current size of KeepTruckin's network is more than 60,000 fleets with one million registered drivers, the company says.
About 50 percent of KeepTruckin's customers that use its electronic logs are on the AOBRD version. The other half are already using the ELD version ahead of the Dec. 2019 deadline from the FMCSA to have the ELD-compliant applications.
The company says the expansion of its safety platform includes four new features that utilize machine learning to identify behaviors associated with critical events: video recall, video annotation, in-app driver coaching, and sensor fusion.
"Safety is a crucial aspect of any fleet, and KeepTruckin is committed to investing in ways data processing, machine learning, and analytics can improve driver performance," said Jai Ranganathan, vice president of product, KeepTruckin.
Ranganathan joined KeepTruckin four months ago after spending three years at Uber.
"Machine learning extends a new layer of intelligence that allows us to contextualize footage and provide fleets with educational insights into specific driver behaviors," he continued.
With the Video recall feature, fleet and safety managers can pull video footage from the previous 35 hours of driving time. KeepTruckin is using machine-driven algorithms to analyze the footage to detect and highlight events of interest to fleet managers, he says, and provide context about the events to focus on real problems.
The Video annotation feature automatically assigns tags that describe the context leading up to an event so that fleet managers can prioritize events for review and monitor changes over time.
In-app driver coaching helps drivers access safety performance data to increase awareness and coach themselves based on driving history.
Sensor fusion uses a combination of vehicle speed, GPS speed, accelerometer, and gyroscope data to identify risky driving events and assess driving performance data through driver scorecards.
"Any one signal has limitations. With a variety of sensors, you can do a better job of detecting events," he says.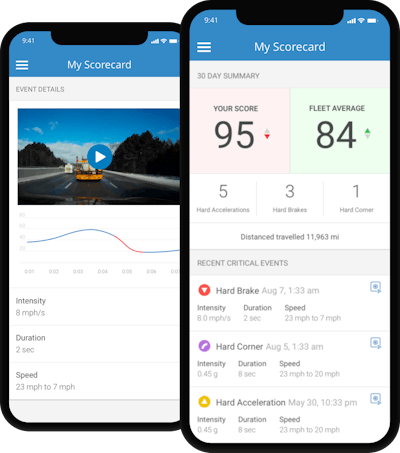 Ranganathan says KeepTruckin is looking into ways to give drivers warnings based on analysis of safety data from its user community, such as to identify areas on routes with a high safety risk.
In making the announcement, KeepTruckin cited the success of a customer that uses the Smart Dashcam. Lubricants distributor Woodford Oil has seen a 50 percent reduction in hard braking events and almost 70 percent drop in hard accelerations in four months.
"Showing our drivers their individual, event-driven video footage has motivated them to take ownership of their driving behavior, which has made our coaching much more effective," said Norman Bright, fleet and safety manager of the Elkins, W.V.-based fleet.
All features will be available for new and current users by April 30, 2019. More information on the Smart Dashcam can be found here.