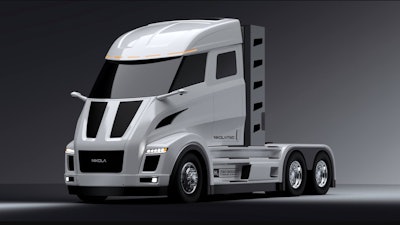 Nikola Motor Company announced Tuesday the company has partnered with Bosch to develop "the world's first true dual-motor commercial-vehicle eAxle for a long-haul truck."
Bosch's eAxle is a scalable, modular platform with the motor, inverter, electronics and transmission integrated into a single unit.
"We have been aggressively pursuing our goal of bringing the most advanced semi-truck ever built to market," says Nikola Founder and CEO Trevor Milton. "The powertrain requires an innovative and flexible partner able to adapt quickly to the speed of our team. Bosch has empowered us to come to market quickly with automotive-grade hardware and software so our vision can become a reality."
Work still lies ahead for Bosch's engineers. When it debuted in January at the Detroit Auto Show, Bosch said the eAxle can be spec'ed up to 300kW/402hp. Milton says his Class 8 hydrogen-electric truck lineup will deliver more than 1,000 horsepower and 2,000 ft. lbs. of torque.
"Bosch is an incubator of electromobility solutions," says Dr. Markus Heyn, member of the Bosch board of management responsible for the Commercial Vehicle Organization. "No matter whether at established OEMs or start-ups, Bosch is accelerating development and helps achieve fast breakthroughs on the market."
Heyn says eAxle will use proven commercial vehicle electric machine technology and separate motor generator motors from Bosch, and will be paired with a custom-designed fuel cell system – also being developed jointly between Nikola and Bosch.
The overall vehicle controls will also be jointly developed based upon Bosch's vehicle control software and hardware, as will the overall powertrain system for the Nikola lineup, including the safety concept and vehicle electrical architecture.
"Breakthrough mobility technology requires visionary targets, speed to-market and disciplined structure to ensure long-term success," Heyn said. "Together with Nikola we are pushing ourselves to realize new levels of technological achievement and market penetration."
Nikola expects to begin testing next year with full production set for 2021.