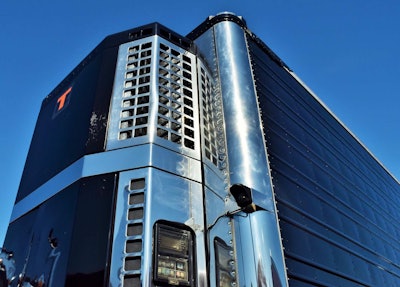 Fleet management software provider Coretex announced an integration with McLeod Software that will allow its users to remotely control their refrigerated trailers from within LoadMaster operational screens.
The new two-way interactive portal allows McLeod users to remotely manage refrigerated truck and trailer settings from within the LoadMaster interface.
Through the portal, LoadMaster users will have access to remotely:
Turn a reefer on or off
Clear alarms
Change a compartment set point
Change reefer status and mode
Run or schedule a future pre-trip
Initiate a defrost
Execute other manufacturer-specific commands
In addition, users can monitor a range of other vital information quickly and easily without leaving LoadMaster, including:
Trailer location and latest trip information
Real-time set point, supply, return and ambient air temperatures that can include multiple probe product temps
Engine and operating hours
Reefer manufacturer alarms
The new capability to Coretex IBRIGHT customers will be available to license in the McLeod LoadMaster Version 15.2 release this fall, the company said.
"With FSMA now having a major influence on the cold chain, the ability for customers to remotely manage the behavior of a reefer from within their dispatch system is hugely important," said Selwyn Pellett, Coretex chief executive officer.
Robert Brothers, manager of product development from McLeod, added: "Refrigerated transportation is a big part of our customers' business and the ability for them to be able to control the behavior of the reefer remotely is very exciting. With the cost of lost or rejected loads only going up, having the ability to remotely intervene without leaving LoadMaster is critical."