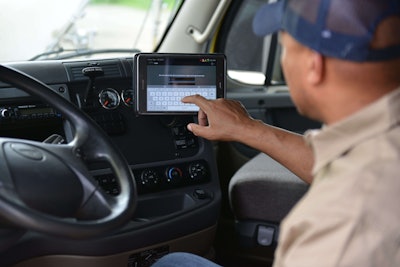 PeopleNet, a Trimble Company and provider of fleet mobility technology, introduced five new features for the fleet manager and driver through its integration with McLeod Software. The new features are included as part of the recent release of McLeod Software's LoadMaster Enterprise and PowerBroker management systems version 17.1.
PeopleNet customers will now have access to new features, including:
Trailer drop and hook events – Trailer drop and hook events for fleets using PeopleNet's Power Line Communication (PLC) Trailer Tracking are processed by the McLeod software without requiring the driver to enter the data manually.
Automatic signature capture – Fleets with PeopleNet devices that support signature capture can use a driver form to capture signature information. Signature data can be stored through the integration with McLeod's DocumentPower imaging and is accessible to McLeod users.
M2M cycle time availability – PeopleNet's cycle time availability now publishes data to McLeod in terms of how many hours a driver has available and how many hours are left in their cycle, providing real-time visibility to data useful for trip planning.
More detailed stop descriptions – Expanded stop descriptions from McLeod in PeopleNet's Automated Workflow allow drivers to get their stop instructions directly from their trip and negate the need to refer to the inbox and retrieve important stop information from messaging.
Enhanced vehicle alarms and PerformX engine data elements – Visibility within McLeod's LoadMaster to additional PeopleNet alarms and vehicle management data on items such as unexpected fuel level drops, seat belt and cruise control usage, hard braking and overspeed occurrences.
"PeopleNet customers turn to us to provide comprehensive and personalized service with a focus on continual improvements, and we're excited to offer our customers these significant enhanced capabilities and data access through the most recent McLeod Software release," said Kerri Tabor, director of integration services for PeopleNet.
PeopleNet debuted these McLeod integration enhancements at the annual McLeod User Conference in Atlanta, which ran Sept. 17-19.