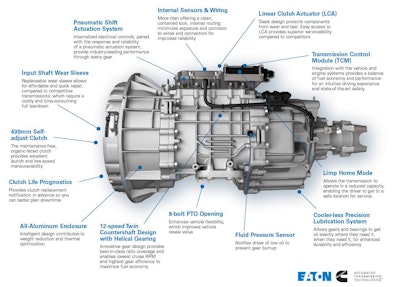 Eaton Cummins Automated Transmission Technologies on Sunday at the North American Commercial Vehicle Show in Atlanta debuted its new Endurant 12-speed automated transmission.
With ratings up to 1,850 lb.-ft. of torque, Endurant –the first product to launch under the Eaton-Cummins joint powertrain venture – will be matched with the Cummins X15 Efficiency Series engines rated up to 510 hp beginning next month for Peterbilt 579 and Kenworth T680. Peterbilt and Kenworth also offer a variant of the Endurant for their MX engine line.
"This is a purpose built automated transmission," says Scott Davis, general manager, Eaton Cummins Automated Transmission Technologies, "designed and built for the North American commercial vehicle space. It is the lightest, the most efficient product on the market."
Endurant, the lightest heavy duty automatic on the market by 105 pounds, features an internal electrical system routing that minimizes exposure and corrosion to wires and connectors for improved reliability.
"There's really very little hanging on the outside of the transmission," says Gerard DeVito, vice president, Technology, Eaton Vehicle Group. "You can change the clutch actuator without taking the transmission out of the vehicle. That saves you about $5,000 on your repair bill."
A new prognostics feature provides clutch replacement notification to better plan maintenance scheduling. An industry-exclusive transmission fluid pressure sensor notifies drivers of low oil levels to provide burn-up warranty coverage. Smooth and intuitive shift strategies that enhance the operator's driving experience. Predictive shifting using look-ahead technology to execute shift decisions that improve fuel efficiency and provide additional driver comfort and a standard, eight-bolt PTO opening for resale value improvement.
Endurant also employs a pneumatic clutch actuator.
"As long as you keep it clean, you get a lot of force at very little cost," DeVito says.
Eaton Cummins relied on more than 400 hours of collaborative efforts from customer councils, driver councils and services councils to aid the package's design. The groups helped identify the most important features.
DeVito says Endurant offers the lowest cruise RPM among competitive automated transmissions and deeper overall ratios to support downspeeding to help save fuel.
"Among line haul transmissions, Endurant has the deepest reverse ratio in the industry for slow speed maneuvering," he says.
Field tested over more than 2 million equivalent miles, Endurant features a 750,000-mile lube change intervals for linehaul applications – the industry's longest and 250,000 to 450,000 miles longer than competitive models."
"Nobody wants to change oil. Oil is a challenge to get rid of," DeVito says.
A maintenance-free 430mm self-adjust clutch that requires no grease and Endurant requires only 16 pints of oil, about half the amount of competitive models. A replaceable input shaft sleeve allows for affordable and quick repair, while competitive transmissions require a costly and time-consuming full teardown.
Endurant is available with IntelliConnect, a telematics capable system that enables near real-time monitoring of vehicle fault codes, critical event prioritization and provides a comprehensive action plans by technical experts at Eaton.
The standard Endurant transmission warranty is 5-year/750,000 miles for line haul commercial vehicles, and 3-year/350,000 miles for the clutch. One-year and two-year extended protection plans are also available. Endurant's maximum operating weight (GCVW) is 110,000 lbs.; maximum horsepower is 510 HP, and oil capacity is 16 pints.