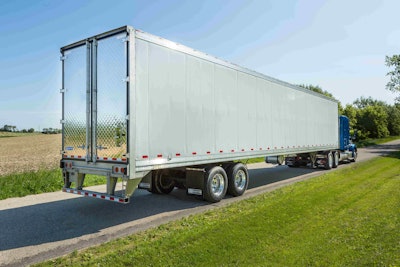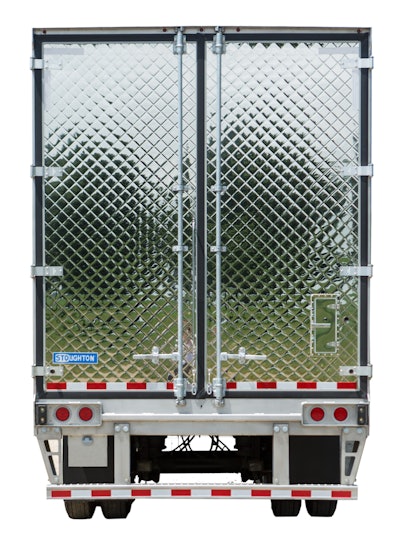 Stoughton will ring in the new year with a new line of refrigerated trailers named PureBlue.
PureBlue refrigerated trailers, a development project that lasted more than two years, made their debut at the North American Commercial Vehicle Show in Atlanta Tuesday.
Stoughton's single-temperature reefer entry will be one of the lightest trailers on the market when they hit the highway early next year, even without the use of wood structurally.
The 5.25-inch extruded aluminum cross members in the bay area provide a rigid lightweight floor substructure. Steel cross members are available as an option.
Stoughton Research and Development Manager Todd Eicher says the floor is designed with composite insulators to separate the floor from the cross members.
A heavy-duty non-skid duct floor is standard. Additional floor options include Smooth flat floor, heavy-duty duct floor, heavy-duty flat floor, heavy-duty non-skid duct floor and heavy-duty non-skid flat floor.
The fully enclosed floor design has a knurled edge top surface for skid resistance.
The refrigerated trailer is built with a triple wiper seal door gasket featuring three contact points, which prevents water intrusion and minimizes air loss. The platen foamed sides and roof insulate 360 degrees without voids or uneven areas.
Platen foaming involves building the substructure and then insulating it throughout the assembly process before bringing them together, sealing and insulating them as a single unit.
"We've got a more uniform foam density and we can better control where we place the foam," Eicher says of the process. "And we get better control of the flatness of the [trailer] wall."
A rivetless aluminum scuff and integral composite scuff liner help prevent damage while loading and unloading the trailer. Bonded side posts reduce the number of holes in the sidewalls to prevent moisture intrusion and improving presentation for graphic applications.
"Between the panel seams, there are no rivets thereby there are no rivet holes," Eicher says.
Stoughton's composite rear door design optimizes thermal efficiency while reducing weight and the rear frame protects the rear sill from dock damage.
The new trailer is equipped with a high-strength, low conductivity refrigeration unit mounting frame designed to reduce the amount of heat being attached to the trailer.
"One of the heat sources on any refrigerated trailer is the diesel refrigeration unit on the front of the box," Eicher says.
The trailer will come equipped with Stoughton's new underride guard, which resists compartmental intrusion on a car when impact is at 30 percent to 100 percent overlap.