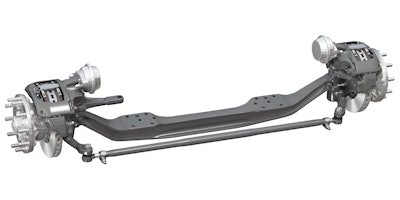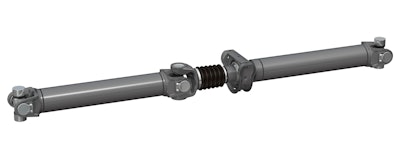 Dana announced Tuesday at the North American Commercial Vehicle Show in Atlanta the launch of its SPL 250 Lite driveshaft.
Optimized for the most popular configurations of heavy-duty commercial trucks and designed to handle torque ratings of more than 18,000 lbs.-ft., the SPL 250 accommodates the lower numeric axle ratios required to support engine downspeeding which can cause stress to the drivetrain and alter harmonics in driveline components.
It has been engineered to reduce noise, vibration, and harshness (NVH) levels; improve performance; and enhance vehicle dynamics without compromising strength.
"This drive shaft [features] improves balance for better NVH characteristics," says Dana's Director of Product Planning Steve Slesinski, adding the removal of components aided in a weight reduction of up to 25 pounds compared to other products.
Dana is also adding an aluminum hub option on its Spicer D-Series steer axles with a 14,600- pound gross axle weight rating (GAWR) – the industry's only 14,600-pound GAWR integrated air disc brake steer axle available with a lightweight hub option.
The Spicer D-Series steer axles reduce weight by up to 76 pounds compared to existing solutions and the new option expands the previously released 10,000 to 13,200 pound GAWR range with aluminum hubs.
Also announced Tuesday is the availability of the Spicer S140 Series single-reduction, single-drive axle is now available on Peterbilt class 6 and 7 trucks.
Available as an option on Peterbilt models 220, 330, 337, and 348, the axle is designed to support applications with gross axle weight ratings (GAWR) from 17,000 through 21,000 pounds.
It is available in a range of ratios from 3.31 to 6.50:1, supporting medium-duty pick-up and delivery trucks as well as municipal and utility vehicles. This axle also improves accessibility and versatility with up to one inch of additional ground clearance.