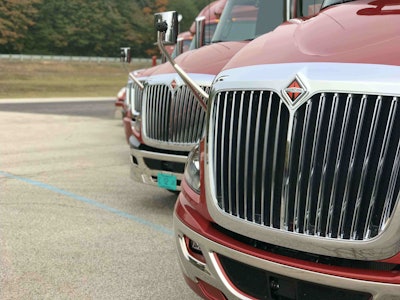 Battle lines for OEM market share are redrawn on a routine basis. In 2009, when diesel was $4 per gallon, fuel efficiency was king. After an initial round of greenhouse gas emissions regulations and the government-funded SuperTruck program, the playing soon leveled. After diesel's precipitous price drop, attention shifted to dealer service networks, productivity and remote diagnostics. Uptime became king.
With the driver shortage reaching critical mass, OEMs now are turning their attention from what's under the hood to what's behind the wheel.
Navistar is in the process of rebranding its lineup of heavy- and medium-duty trucks, and the company's new "DriverFirst" product design philosophy has permeated every new product introduced in the last year, including the International LT and RH (replacing the ProStar and TranStar) Class 8 tractors, the severe-duty HX and HV vocational trucks (formerly the PayStar and WorkStar).
"A fleet's number-one cost of total operation is driver retention," said Jeff Sass, Navistar's senior vice president of sales and marketing. Navistar's redesigned interiors involved input from hundreds of drivers and fleet customers. "[DriverFirst] is how we make trucks attractive to fleets for being driver-centric, safer and easier to drive."
Common design improvements to International trucks include new switch placements, a steering column-mounted shifter, instrument cluster with customizable digital display, repositioned mirrors to reduce head movement and reduce neck fatigue and relocated tractor air supply and parking brake control valves.
Denny Mooney, Navistar's group vice president for product development, says in conversations with fleet customers that fuel economy and other performance attributes are important, "but at the end of the day we found that if the drivers like our trucks, fleets will buy them."
Technology and safety improvements also are playing a bigger role in driver and fleet preference, paying back in the used truck market for fleet owners and make trucks easier to drive for drivers, Mooney said. Take rates on disc brakes have doubled in the past year, and take rates for automated manual transmissions is now over 70 percent. Mooney says predictive cruise control is beginning to gain acceptance as fleets realize the value they bring to improve fuel economy, while take rates for collision mitigation systems are now above 50 percent.
Citing increases in freight rates and load activity, Sass is bullish on truck sales for the remainder of 2017 and into 2018. "[2018] should be a big year for trucking and truck manufacturers," he said, adding Navistar will close out its fiscal-year 2017 at the end of October with a 3 percent year-over-year growth in medium-duty market share and 0.5 percent growth for the Class 8 market. "That is a testament to our customer experience and dealer network," he said.
Sass cautioned the electronic logging device mandate could negatively impact productivity – as much as an initial 8 to 12 percent for fleets that haven't converted to ELDs begin the learning curve and 3 to 5 percent thereafter – and cause further turmoil in the used truck market.
"Half the freight in America is hauled by a truck on its second or third owner," said Sass. "Most of them haven't implemented ELDs yet. Will they be able to maintain their standing moving forward?"
First look: International HV vocational truck
Navistar's new International HV severe-duty vocational truck, launched at the North American Commercial Vehicle Show last month, is the latest truck introduction in the company's efforts to rebrand its entire vehicle lineup. It was made available for limited on-course test drives to members of the media at a press event in New Carlisle, Ind. this week.
From the outside, the HV looks identical to its WorkStar predecessor. But under the hood and inside the cab, the HV offers a few notable updates. In addition to Cummins B6.7 and L9 engine options, the HV is available with Navistar's new International A26 12.4-liter engine, replacing the N9, N10 and N13 engine options on the WorkStar.
The HV borrows its cab interior from the International LT long-haul and RH regional-haul tractors, bringing over-the-road ergonomics and driver comfort features to vocational applications and helping Navistar reclaim market share in that segment it forfeited over the last six years in the wake of MaxxForce engine woes.
A new premium gauge cluster display allows drivers to track trip data, fuel economy as well as customizable vehicle, engine, transmission and axle information. Up to 30 customizable and programmable switches can be added to the wing panel depending on the truck body.
A new steering column-mounted shifter creates more driver legroom, and relocated pedestal mirrors provide better forward visibility with less neck movement to survey surroundings. The parking brake control valve has been moved to the far right of the wing panel, making room for climate control and other buttons within closer reach of the driver's seat.
The HV sits between the DuraStar and the HX in International's vocational truck lineup. The main differentiators from the DuraStar are the HV's available power takeoff, A26 engine option and a GVWR of 73,000 pounds compared to the Daystar's 54,600 pounds. The HX offers an additional 15-liter Cummins X15 engine and an aluminum cab over the steel cab HV.
The International HV is available with regular, extended and crew cab configurations in four models with 107-inch or 113-inch BBC in both set-back and set-forward axle configurations.
Commercial Carrier Journal will have an opportunity for an extensive test drive and product review later in early 2018.