From the ATA Management Conference & Exhibition in Orlando, PeopleNet introduced four fleet mobility products that focus on security, safety and efficiency. It also announced the trucking industry's first backup camera.
The following is a summary of each new product: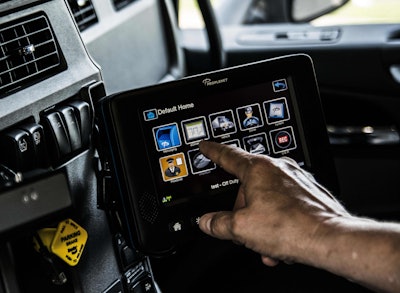 PeopleNet Connected Gateway (PCG): A new device that can quickly be self-installed, connecting directly into the vehicle diagnostic port and mounted on the truck's dashboard. The PCG provides encrypted communication back to PeopleNet's cloud data center.
PeopleNet says the PCG allows fleets to more efficiently equip their trucks when compared to previous generations of onboard computers, which are often installed in the headliner or hidden within another compartment of the cab.
The PCG can connect to a wide range of in-cab displays and mobile devices via WiFi to deliver connectivity to 4G LTE networks through PeopleNet's service.
"The debut of the Connected Gateway marks the continued evolution of PeopleNet's mobility solutions to connect drivers, displays and vehicles to improve safety and performance," said Eric Witty, vice president, product for PeopleNet.
Video Intelligence Backup Camera: PeopleNet's new backup camera automatically pairs tractor and trailer and wirelessly transmits video to an in-cab display. The pairing allows for wireless streaming of live video on an in-cab display when the vehicle is in reverse, reducing blind spots for the driver.
The camera is part of the company's fully integrated Video Intelligence platform, which includes forward and side-facing cameras for 360 degrees of video data. The platform uses company-controlled settings from a truck's Onboard Event Recording (OER) to augment traditional driver and truck analytics with onboard event recording.
"Adding this trailer camera to our solution is part of the evolution of the Video Intelligence platform to meet the safety and compliance needs of the customers we serve," said Jim Angel, PeopleNet vice president of Video Intelligence Solutions.
PeopleNet's Video Intelligence backup camera is powered by the anti-lock braking system (ABS) of the trailer and uses a transmitter to automatically pair it to any tractor equipped with a PeopleNet Video Intelligence receiver.
Fault Intelligence Monitoring Solution: Fleets can gain enhanced views into vehicle health to improve vehicle uptime, regardless of the make or model of vehicles. Fault Intelligence is powered by Noregon, a PeopleNet technology partner since 2009.
LoadDocs Scanning App: PeopleNet is now offering intuitive scanning functionality across a wide range of Android devices in partnership with LoadDocs. Customers can use the app to digitally scan a variety of paper-based documents such as expense reports, inspection reports and bills of lading.
LoadDocs' scanning solution is available to customers who use PeopleNet-certified Android-based in-cab displays and mobile devices, in conjunction with a PeopleNet Mobile Gateway (PMG) or PeopleNet Connected Gateway (PCG). Through the app, users can scan documents with the camera on their device; no additional hardware is required.