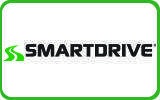 SmartDrive Systems introduced SmartSense for Distracted Driving, an in-cab, driver-facing sensor-based system that uses advanced computer vision-based algorithms, paired with the SmartDrive video analytics platform, to identify distracted driving incidents and driver fatigue.
"Today, the majority of computer vision-based technologies operate in isolation from other systems and sensors on the vehicle—which means they are acting on data only available from their own system," said Steve Mitgang, SmartDrive CEO. "This is a missed opportunity that will limit options for fleets in this new age of intelligent transportation. With the SmartSense product line, we are taking a different approach by fusing sensor, vehicle and environmental data, creating a convergence of information that makes the entire system smarter and better able to help fleets prepare drivers for a world of more autonomous technology."
When combined with the SmartDrive program and its Extended Recording capability, SmartSense offers fleets a complete picture of what led to driver distraction, enabling fleets to provide detailed feedback and actionable coaching to improve driver safety. The system is expected to be available in early 2018.
"The distraction sensor from SmartDrive has taken our video safety program to the next level by capturing distraction risks we would not have seen otherwise," stated John Billingsley, director of safety and training, G&P Trucking, which participated in early trials of SmartSense. "The new sensor works with our existing platform—extending the impact of our original investment and proving to be a valuable tool to eliminate distracting driving."
SmartSense interprets driver cues that indicate distraction, including as head and eye movements. When the sensor detects distraction, inattention or drowsiness, it triggers a video, which is prioritized and offloaded for immediate verification and intervention, allowing fleets to act quickly.
Video evidence from the SmartDrive library confirms that drivers who engage in distracted driving frequently demonstrate an over-reliance on their ability to respond to dangerous situations, should they occur.