Note: This is the first in a three-part series that explores the emergence of a new generation of truck manufacturer. The remaining two installments will publish this week.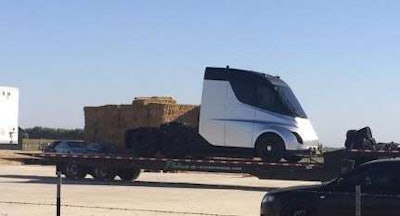 Nowhere in trucking does legacy shine brighter than brand affiliation.
Drivers often declare their truck preferences early in their career and many times do so with a seething, sometimes illogical, hatred for other nameplates.
Brand loyalty that can date back generations has been the hallmark of trucking behemoths like Freightliner, Peterbilt, Kenworth, Mack, Volvo and International, but it complicates entry into the industry for entrepreneurs simply seeking to invent a better mousetrap.
"Credibility is everything and we have to build it," says Nikola Motor Company founder and CEO Trevor Milton, who is in the process of developing a hydrogen fuel cell, electric drivetrain tractor. "We don't have a legacy of issues or a legacy of success. It kind of goes both ways."
Recalls, warranty repairs and trucking tech that debuts ahead of its time are not uncommon but for brands working to raise their profile, there's no wiggle room for getting it right.
"The most important thing is that we have to make sure this truck is 100 percent sound and perfect," Milton says. "We're focused solely on our electric semi over-the-road truck. We are not over-promising. We're going to deliver what we have [promised]."
In order to crack into a market dominated by legacy diesels, Milton's company is blazing a new trail by trying to become both a contender as a truck OEM and a leader in the green movement.
"Unless it's zero emission, we simply won't do it," he says. "We want to establish our name as a powerful brand around the world."
Through his Myrtle Beach, S.C.-based truck operation, Alkane Truck Company CEO Bob Smith is also betting on cleaner alternative fuels. Propane autogas (LPG) and compressed natural gas (CNG) serve as the fuels of choice for the company's Class 7 propane-powered cabover that debuted late this summer.
Featuring a GVW of up to 33,000, the Alkane Class 7 Truck uses a PSI 8.8-liter, 535 CID, high-performance liquid propane engine and an Allison transmission.
A Class 8 cabover truck from Alkane is slated to get Cummins' 11.9 liter CNG engine – the ISX12 G – when it rolls out in 2019.
The elephant in the room of upstart truck-makers is Silicon Valley car company Tesla, who announced earlier this year its intentions to enter trucking.
The next truck Tesla rolls off its assembly line will be the company's first – and that debut has been delayed twice – but the company already has built-in brand recognition thanks to its electric car line up.
"I love seeing [Tesla] coming into the industry because it helps the industry and brings a lot of attention to it," Milton says of Tesla.