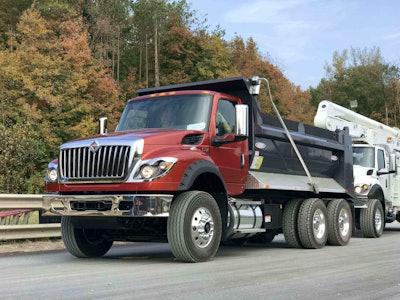 Navistar on Tuesday announced a fourth quarter 2017 net income of $135 million, sealing the company's first profitable year since 2011.
The gains posted during the fourth quarter this year – Navistar's second consecutive profitable quarter – represent a swing of $169 million compared to 2016 and was more than enough to push the company into the black for the 2017 fiscal year with $30 million in income, versus a net loss of $97 million for fiscal year 2016.
Revenues in the quarter increased 26 percent, to $2.6 billion, compared to fourth quarter 2016. The revenue increase was largely driven by a 31-percent increase in the company's core Class 6-8 trucks and bus business in the U.S. and Canada.
Revenue for fiscal year 2017 was up six percent to $8.6 billion, compared to $8.1 billion in fiscal year 2016.
"Our 2017 was a breakthrough year, as we returned to profitability and grew our market share 1.5 points," says Troy A. Clarke, Navistar chairman, president and CEO, noting the share gain was largest single year marketshare gain in 8 years. "2017 started slow but it finished strong, and we took advantage of the second half growth in the Class 6-8 truck market."
Clarke says International's A26 engine is driving marketshare in the 13-liter segment of Class 8, and third-party testing has shown an A26 spec'd in a long haul LT series, it leads the industry and fuel economy by an average of 4 percent.
Navistar Vice President and COO Persio Lisboa says there are now more than 2,000 trucks equipped with the A26 in the field with more than 4,600 more on order.
The company finished 2017 with strong momentum across the board. During the quarter, the company launched the International HV Series line of vocational trucks. The HV Series, in addition to the HX Series premium vocational truck lineup, now has the option of being powered by the International A26 engine. The company also announced plans for its next-generation powertrains with alliance partner Volkswagen Truck & Bus, including big bore diesel, as well as electric medium-duty and electric bus platforms launching as early as 2019.
Also during the fourth quarter, Navistar and Volkswagen Truck & Bus announced their intention to converge their connected vehicle activities – OnCommand Connection and RIO, Volkswagen Truck & Bus's digital brand. OnCommand Connection now has 370,000 connected vehicles. The two companies are amping up their collaboration. Clarke says the alliance between Navistar and Volkswagen is on track to deliver a projected $500 million in cumulative savings to Navistar over the first five years.
"We are working together on fully-integrated next-generation diesel big-bore powertrains," he adds, "and we are also collaborating our new advanced technologies, including the electric medium-duty truck and electric school bus we've already announced, and the convergence of our two connected vehicles with Telematics platforms."
Looking ahead to next year, Clarke says he sees a stronger year for growth in the Class 8 market and steady sales in Class 6 and 7.
"We foresee solid U.S. GDP growth of 2.5 to 3 percent," he says, "and history shows a growth above 2 percent translates to a growing Class 8 industry. Smart truckload freight rates have remained robust, and the latest freight transportation services index reached an all-time high … anything that drives GDP growth above that 2 percent, 2.5 percent kind of range, you know, really means in truck industry vernacular, it means sales in excess of replacement demand."
"We think 2018 is shaping up to be one of the strongest industry years this decade, and we're positioned to make it a breakout year for Navistar," Clarke says, adding by the end of next year Navistar expects to complete it's product lineup revamp.
For the fourth quarter 2017, the Navistar's truck segment recorded a profit of $112 million compared with a year-ago fourth quarter loss of $61 million. Clarke says the year-over-year change was primarily due to the impact of higher volume in the company's core markets and a decrease in used truck losses.
For the 2017 fiscal year, the truck segment recorded a loss of $6 million, compared with a fiscal year 2016 loss of $189 million. The improvement was primarily driven by the impact of higher volumes in the company's core markets and Mexico and a decrease in used truck losses, partially offset by market pressures and charges related to EGR product litigation.
Since October 2013, Walter Borst, Navistar vice president and CFO, says warranty liability has declined by 53 percent to $629 million at year end.
"For the second straight quarter, all reporting segments were profitable," Borst adds. "Truck sales grew 33 percent compared to last year, to $1.9 billion. The sales growth was driven by higher volumes across the portfolio, reflecting strong industry conditions and market share growth."