On the day that ELD compliance became mandatory, Dec. 18, HELP Inc. announced that its PrePass ELD application is now available for iOS devices through Apple's App store.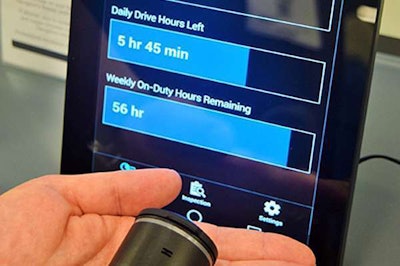 PrePass ELD was released in late November 2017 as a low-cost solution to the federal electronic logging device (ELD) mandate. The PrePass ELD is registered with the Federal Motor Carrier Safety Administration and costs $14.99 per month per license. The price is reduced to $12.99 per month when bundled with other PrePass services.
PrePass ELD monitors truck driver hours-of-service, recording only the data required by law. It operates as a bring-your-own device (BYOD) app in Android and iOS formats. The app takes seconds to install following a sign-up process – users first establish a PrePass Fleet Manager account and order OBD connector devices.
After plugging the OBD device into the truck's diagnostic port, drivers can download the app to any tablet or smartphone to begin recording truck movement and driver hours.
PrePass ELD also offers Driver Vehicle Inspection Reports (DVIR), central web-based reporting and simple OBD wireless connection via Bluetooth.
HELP Inc., the non-profit provider of the PrePass truck weigh station bypass system, developed PrePass ELD to address requests from owner-operators and fleets for a simple and low-cost way to comply with the ELD requirement which took effect on December 18.