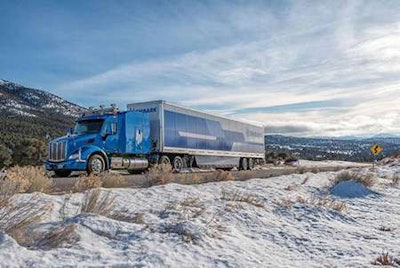 E-commerce. Vehicle automation. Uber. Electric trucks. At one time or another, each one has been crowned trucking's great "disruptor," a word so frequently thrown around to describe an innovation that I wouldn't care to see it banished from the English language entirely.
Each of these shifts (or technologies, or solutions, or anything else you want to call it other than disruptor) are important in their own right but electric trucks have shaken the ground like few others.
All of my friends know what I do for a living but it's rare that any of them ever ask about my day until I got back from the Tesla Semi launch in November.
It's like I was a returning war hero. The truck, and my experience there, was all anyone wanted to know about. Trucking was suddenly cool to a group of people who wouldn't know a Peterbilt from Peter Jennings.
I even banked a few cool-points from my 13-year-old daughter, who understands as much about the trucking industry as I do her taste in music.
Tesla is the cool kid that, save for Burt Reynolds, trucking has never had.
When PepsiCo announced in December its reservation of 100 Tesla Semis, it made my local Birmingham, Ala.-based news broadcast. New York-based PepsiCo ordering 100 trucks from a California-based manufacturer got airtime in Alabama.
The week before, Memphis, Tenn.-based Summit Truck Group inked a 500-truck deal with JNJ Express for a bunch of International tractors. Not a word was mentioned.
JNJ Express actually hauls in this state. Alabama doesn't even have a Tesla dealership.
I could drive to Memphis before I could fly to New York and JNJ's International LT order was five times larger than PepsiCo's, but it got zero seconds of play because it's not as cool.
Trucking has always had a public relations problem. It's too practical and functional.
It's needed more pop and sizzle. More cool kids.
It needed a tractor that partially sells itself based on its 0-60 time because that's a level of cool the world understands, even though it's a level of absurd that only trucking understands.
More eyes are now on trucking than ever before, and it finally doesn't have anything to do with electronic logs or campaigns aimed at stripping back regulations.
With other players like Uber and trucks that can almost drive themselves, it's cool to be here now.
The Consumer Electronics Show in Las Vegas is one of the foremost technology shows in the world. Companies like Samsung, Amazon, Spotify all make major news there. This year, Kenworth, Peterbilt and Ryder joined them on the showroom floor, rubbing elbows with some of the coolest names in the tech game.
The mystique will eventually wear off Tesla and the group of emerging trucking tech upstarts, and they each will be just another trucking OEM trying to deliver a product alongside the legacy group of OEMs that has built trucks for generations – the old not-so-cool group that is content to let the whipper snappers wear themselves out reinventing technology.
Tesla brings a lot to the table, namely the companies that want to be associated with them. The legacy Class 8 OEMs have similar partnerships as those Tesla is now developing, but there is a cottage industry of companies devoted to following Tesla around.
They will bring new seats to the table, and these battery companies and electric technology companies are now looking at the trucking industry in a different light. They want to be here because it's cutting edge and it's trendy. It's CES trendy.
Drawn by electrification's emergence onto the highway, many universities have trials underway exploring improvements in battery density and chemistry. More players are pulling seats up to the table, players who see things differently and solve problems differently.
They don't have to rely on passenger car companies to validate their technologies. Trucking is now a viable partner and it's cool to be associated with it now.