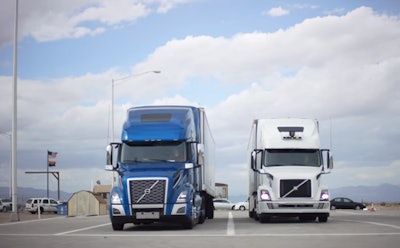 Uber ATG, the branch of Uber dedicated to developing self-driving vehicles, said Tuesday it is "focused on a system to take the driver out of the vehicle" on freeways with controlled entry and exit lanes, said Alden Woodrow, Uber ATG's product lead.
The company is already moving freight with at least one undisclosed carrier and shipper across Arizona in ongoing tests of its autonomous technology, as well as a transfer-hub trailer hand-off system the company envisions "what trucking freight could be" in the future, says Woodrow.
"We want to try to get this [self-driving truck] technology into the world safely and reliably as soon as we can,"  Woodrow said. "Getting a truck onto the highway may be the fastest way to do that." The company is "not building a truck that can back into a dock." Highway driving will "likely to be our focus for a very long time."
For now, drivers remain at the controls of the autonomous rigs hauling on I-40 in Arizona, Woodrow said, and Uber Freight product manager Eric Berdinis described the hand-off of loads at either end, transfer points for the autonomous unit's load to another tractor occurring at Arizona Department of Transportation facilities. The companies shared a promotional video (above) documenting one such transfer at the Topock, Ariz., scale, with an Uber Freight-contracted carrier moving the eastbound load the remainder of the way across Southern California toward its destination.
In Arizona, "we're not operating trucks continuously" yet, Woodrow added, but with Uber Freight helping coordinate loads coming from east and west the company is building toward demonstration of a transfer system that could work for "high utilization. Our carriers partners and their drivers can also get high utilization in short-haul operations from transfer hubs" on either end. … We have a lot more work to do to get to a real product … before we can take a driver out of the vehicle" on the self-driving leg of the trip. "All of these trucks still have a CDL operator in the driver's seat at all times."
Woodrow declined to say whether Uber was planning to market its autonomous technology to existing fleets via the truck OEs or simply deploy it in its own fleet. He did say, however, that "our desire is to partner with the industry all the way up and down the value chain."
For the Uber Freight digital brokerage, Berdinis saw these recent developments as helpful in bringing to fruition the "promises we've been working toward in terms of keeping drivers utilized and bringing them home as often as they want to be."
Berdinis suggested that the entire process is not as seamless as it may seem in the promo video for the Uber Freight-contracted driver switching with the autonomous truck in Arizona. "We time the [incoming] load such that the driver doesn't have to" wait a very long time after he delivers his incoming load. At once, there "can be some wait time" depending on the particular scenario. Ultimately, though, the company wants the transfer-hub concept to work seamlessly. "The goal is no wait time for the Uber Freight driver" upon arrival to pick up the trailer dropped by the autonomous test rig.
Woodrow described a situation that occurred recently in which the operator coming out of California was overweight and got delayed on his way to the transfer area in Topock. "We knew pretty seamlessly through Uber freight that that was happening," he said. "We were able to respond pretty seamlessly in that sort of real-world situation." It's "not as if everything will flow all the time perfectly."
However, Woodrow added, "We think this is valuable" for demonstration and planning purposes, "working with real carriers and real shippers" to show the concept could be viable given proper infrastructure around the transfer hubs.
Ultimately, such infrastructure would need to be a "more dedicated facility," Woodrow added. "What that looks like remains to be seen." Likewise rules from federal and state governments allowing vehicles to run without an operator at the controls. "There are many policy and infrastructure challenges that exist."