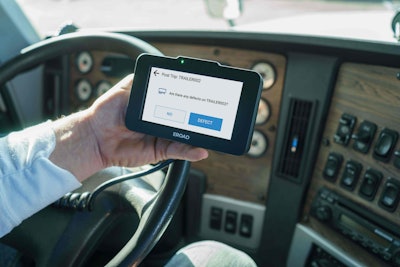 EROAD has added an in-vehicle Driver Vehicle Inspection Report (DVIR) reporting tool to its fleet management, electronic tax reporting and ELD compliance platform.
The new tool, called EROAD Inspect, uses the platform's in-vehicle device to lead the driver through the inspection process of a vehicle or trailer to verify it is in a safe condition before and after operation.
The DVIR includes several steps:
Vehicle Inspection — a guided inspection process using one-touch interactions to report defects or damage
Defect Reports — a separate DVIR history, electronically signed by the driver and submitted to the carrier, for each tractor and trailer to identify vehicles in danger of violating regulations or in need of maintenance
Corrective Action and Certification of Repairs — integrated communication between drivers and shops to certify that any defects listed on the DVIR that would affect the safe operation of the vehicle are repaired
"EROAD Inspect is a nice feature," said Dave Domer, safety director at Kirk Trucking Service, a Pennsylvania-based hauler of steel, aluminum, machinery and building materials as well as general commodities. "As an in-vehicle DVIR it makes the driver's log book completely paperless and provides us with an effective reporting tool that's great for tracking if documented defects have been corrected."
"With Inspect you'll have confidence that defects are reported, repaired and certified, and that accurate inspection records are stored," Holt stated.