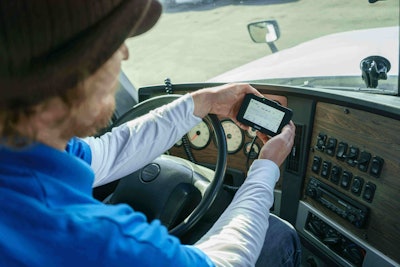 EROAD, a global technology provider of fleet management, electronic tax reporting and ELD compliance systems, will integrate truck location and driver Hours of Service (HOS) data with McLeod Software's transportation management system.
With the integration, LoadMaster users can better manage driver availability, plan routes and improve visibility into ETA of in-progress dispatches, the company said.
"To meet the upcoming ELD mandate requirements, working with a provider who has an easy-to-use and driver friendly ELD, and one who can synch with McLeod LoadMaster Dispatch, is essential for McLeod Software customers," said Norm Ellis, president of EROAD North America. "This new integration will enable them to continue to use familiar software, and to take advantage of accurate and reliable EROAD data to meet compliance, operational and driver needs."
EROAD's ELD captures driver's HOS data automatically, including time logged per status category and available drive and on-duty hours.
The company says McLeod users will be able to use the integration to more effectively plan routes to shorten travel times, reduce fuel costs, and improve visibility to help decrease late deliveries, optimize driver utilization, and respond faster when things don't go as planned, and provide customers with load location and status updates.
"McLeod customers that are concerned about being compliant with the ELD mandate or about HOS compliance, that need to have more visibility into driver and truck availability when managing multiple loads or if a load is delayed, will benefit from the new EROAD-McLeod integration without having to switch between software tools," said Robert Brothers, manager of product development at McLeod Software.
The truck location and HOS capability from EROAD will be available to license in the McLeod LoadMaster Version 17.2 release this fall. Anticipated for the McLeod LoadMaster Version 18.1 release is integration with EROAD's forms-based messaging to automate and improve dispatch to driver communications.