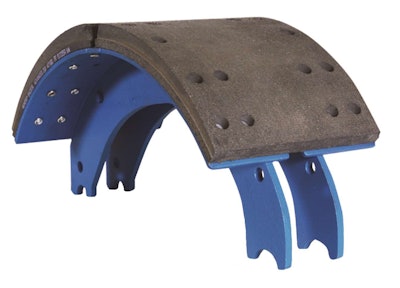 Bendix is expanding its aftermarket Advanced Friction line with the addition of BA203, a 20K friction suitable for most line haul applications, according to the company.
Keith McComsey, director of marketing and customer solutions at Bendix Spicer Foundation Brake LLC (BSFB), says 20K friction is the predominant type of lining across the industry, adding "our team regularly speaks with aftermarket customers looking for a product that can deliver an elevated level of performance at a lower price than original equipment-level replacement friction."
Bendix says the new BA203 linings will provide higher torque and perform in higher temperatures with less fade compared to other competitive choices in the aftermarket, making it an excellent choice for tractors and trailers that are used in line haul applications and do not require a Reduced Stopping Distance (RSD) solution. In head-to-head testing, McComsey noted, the BA203 meets or exceeds the stopping power and wear performance of comparable best-selling aftermarket friction products.
Priced between Bendix's BA201 friction and its BA202R, BA203 linings will be available on both Bendix remanufactured brake shoes and the recently launched new steel/coreless brake shoes.
The Bendix Advanced Friction line is part of the company's three-level aftermarket friction portfolio, and also includes linings tested to meet federal RSD requirements. Other Bendix aftermarket friction offerings include the Bendix Basic line, which provides good wear and consistent stopping power under normal operating conditions; and Bendix OE Friction – the company's highest performing friction offering, which includes the exact Bendix friction material found on original equipment. The OE friction is certified to meet OEM FMVSS-121 (including RSD) requirements.
Bendix's most advanced air disc brake pad available for more applications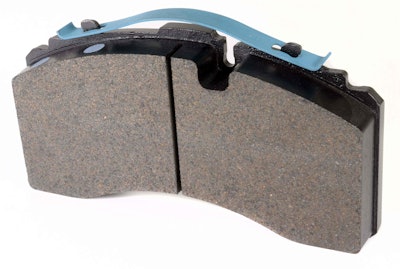 Additionally, Bendix says its BX276 air disc brake (ADB) pad – its highest-performing air disc brake friction – is now available for use in all new and aftermarket tractor and trailer applications. Engineered in conjunction with the Bendix ADB22X-LT trailer-specific air disc brake, BX276 can be utilized as replacement friction for ADB22X and ADB22X-LT ADB systems on both tractors and trailers.
The new pad is part of the company's commitment to wheel-end solutions that improve highway safety while helping fleets lower their total cost of ownership (TCO).
Also, as part of its expanding ADB pad offerings, Bendix has introduced the North American commercial vehicle industry's only ADB replacement pad approved by original equipment manufacturers for use in severe-duty applications. Engineered with a formula that makes it the most flexible friction in the marketplace, the Bendix BX283 offers extended service life and provides stopping power that exceeds required standards, according to the company.
In improving upon its previous ADB pad (the BX275), the Bendix team added two millimeters of thickness to the BX276 pad, which makes for an 8 percent increase in wearable volume, and reformulated the friction to achieve an improved wear rate. The result is a pad with up to 40 percent more wear life than its predecessor.
The Bendix BX276 pad already meets the Environmental Protection Agency's 2021 copper-free brake initiative requirements for reduced copper in brake friction. The copper-free brake initiative is intended to be a cooperative effort among auto manufacturers, brake manufacturers, aftermarket industries, the EPA and states to phase out copper and other constituents found in brake pads nationwide. Not all aftermarket choices comply with the initiative, but Bendix is doing its part to protect the environment.
"With the continued growth of interest in and adoption of ADB solutions on tractors and trailers nationwide, Bendix is always working to improve the technology so that fleets and drivers can make the most of all its advantages," says Nicole Oreskovic, product line director for ADB at Bendix Spicer Foundation Brake LLC. "The expanded availability of the BX276 not only brings its performance to more wheel-ends, but can also help streamline things in the shop, since the ADB22X™ and the ADB22X-LT fully share replacement parts – not just friction, but components like tappets and boots, as well. Shared training and maintenance practices also help increase uptime."
The newly introduced Bendix BX283 ADB pad is designed to extend service life in a range of applications across the severe-duty braking spectrum – mainly applications with increased pad wear due to frequent braking and/or high braking operating temperatures. Vehicle examples include refuse, bus, pickup and delivery, and others. The formula of the pad's flexible but strong friction material is less prone to cracking and shedding chunks, providing reliable performance and more uptime without increased risk of rotor heat cracks. For vehicles equipped with brakes designed to meet the federal Reduced Stopping Distance (RSD) requirements mandated by the National Highway Traffic Safety Administration (NHTSA), the Bendix BX283 offers performance that not only maintains compliance, but also exceeds the stopping distance requirements. The pads also meet FMVSS-121 testing standards.