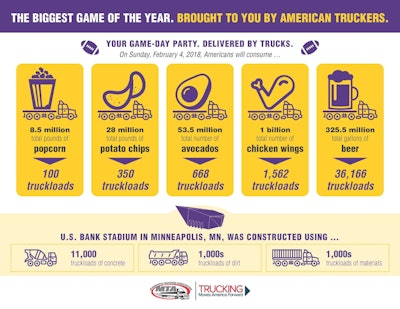 If you haven't already written off professional football entirely, this weekend is a big one for NFL fans.
Even if you're not a fan of the Patriots or Eagles, Super Bowl Sunday is usually among the biggest party days of the year. I've never been in a mood to celebrate the demise of a football season, especially if either the Eagles and Patriots winning is the send-off. When you wake up Monday morning, you are the maximum number of days possible to the next football season.
However, if you've got guacamole you've got my attention.
The Minnesota Trucking Association (MTA) and American Trucking Associations (ATA), the agencies that reminded us how Thanksgiving is really made, say Americans will consume more than 100 truckloads of popcorn, 350 truckloads of potato chips, 668 truckloads of avocados, 1,562 truckloads of chicken wings and over 36,166 truckloads of beer on Sunday.
True story: I've never eaten popcorn at the Super Bowl party, but I wreck each of those other things on an annual basis.
While the Vikings whiffed in a major way on their chance to play in the big game on their home turf, MTA and ATA remind football fans they also have trucking to thank for the opportunity to be in the Minneapolis area.
U.S. Bank Stadium, where Super Bowl LII will be played, was built using 11,000 loads of concrete, and several thousand loads of material and dirt when it was built ahead of the 2016 season.