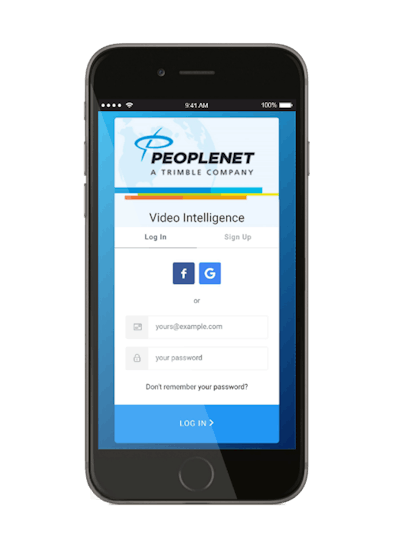 Fleet mobility technology provider PeopleNet released Video Intelligence Mobile, a web-based companion app for its Video Intelligence platform.
The new app is compatible with Android and iOS-powered devices and gives users the ability to view accident footage immediately, as well as share specific videos with others in the organization.
"By creating a mobile app for our Video Intelligence solution, we aim to provide users access to valuable Video Intelligence data everywhere they go, every time they need it," said Jim Angel, vice president of PeopleNet's Video Intelligence Solutions. "At its core, Video Intelligence captures accident footage that could potentially exonerate fleets and their drivers, while also providing a streamlined process for recognizing and coaching at-risk drivers."
Video Intelligence Mobile fully integrates with the PeopleNet Fleet Manager (PFM), an online web portal for back-office communications and carrier fleet management functions to provide 24/7 mobile access to the Video Intelligence platform.
PeopleNet's Video Intelligence platform utilizes backup, forward-facing, and left- and right-view cameras to create a near 360-degree view around the cab and trailer of the truck, and is fully integrated with its fleet management system. The platform uses PeopleNet's Onboard Event Recording (OER) that allows video to be triggered by company-controlled settings, including sudden acceleration or hard braking.