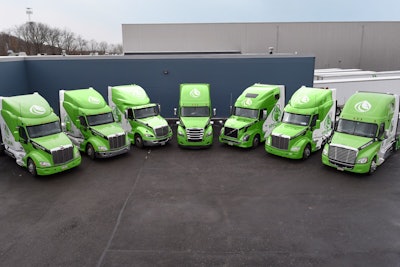 Hyliion is making its hybrid electric rive axle available for fleet testing.
The company has outfitted a fleet of Class 8 trucks with the 6x4HE the company debuted in October of last year and is making those trucks available to potential customers to test in their own operations for up to a week.
"We are excited to offer our customers the chance to test a Hyliion enabled vehicle in their own day to day business operations," says Hyliion CEO and founder Thomas Healy. "It is a big decision to adopt a new technology and the opportunity to take the truck for a trial run makes all the difference."
Trucks are available as of March 12 and can be reserved through email at trialtruck@hyliion.com, the company's website, or by calling 1-833-HYLIION.
The 6X4HE's battery pack stores 8 kW of electrical power and mounts to the tractor's frame rail in place of an auxiliary power unit. As the tractor approaches an inclined grade, the system delivers electrical power to the provide torque to the rear axle to save diesel fuel. On downgrades or when the vehicle slows down, the system captures regenerative braking energy to recharge the battery.
The 6X4HE replaces the rear axle in both 6×2 and 6×4 configurations.