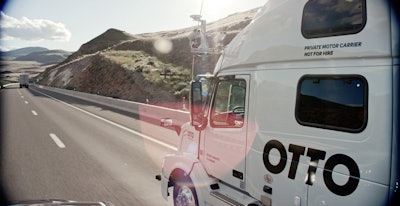 With legal trouble swirling around Uber's autonomous truck venture, the company has fired Anthony Levandowski, the founder of the autonomous truck company Otto and a star engineer with Uber and, formerly, Google. The company also quietly announced last month it dropped the name Otto, as it was facing a lawsuit by a Canadian-based robotics company of the same name. Uber has folded Otto into its Advanced Technologies Group, known as Uber ATG.
Levandowski's departure from the company stems from a court order issued this month by the judge overseeing a lawsuit against Uber and Otto brought by Google and its self-driving car subsidiary Waymo. Google and Waymo allege Uber, Levandowski and Otto stole trade secrets and technology related to the development of self-driving vehicles, including autonomous trucks.
In an order issued May 15, Judge William Alsup ordered Uber to part ways with Levandowski, among other stipulations, saying Waymo provided compelling evidence to back up its allegations against Uber.
Uber has disputed the claims, denying accusations the theft accusations brought by Waymo. Ride-sharing giant Uber says its autonomous system is "fundamentally different" from Waymo technology.
Waymo says Levandowski, possibly in collusion with Uber, ripped 14,000 documents related to autonomous vehicle tech from its network before bolting to start Otto, which was later acquired by Uber for $680 million.
Otto last year conducted two successful on-highway tests of its autonomous truck system.
Uber, unrelated to its autonomous vehicle division, launched this month Uber Freight, a freight-matching platform aimed at small carriers and owner-operators.