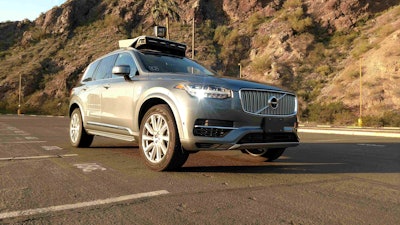 Most autonomous efforts in trucking today, including platooning testing and Freightliner's 2015 Inspiration concept truck, involve Level II automation (partial automation) as defined by the Society of Automotive Engineers. These trucks simultaneously use a combination of advanced driver assistance systems to control steering, acceleration and braking. The driver is still required to maintain situational awareness of road conditions and traffic and be ready to assume control instantly, similar to the way we use cruise control on the highways today.
The next automation step, SAE Level III (conditional automation), still requires a driver behind the wheel, but he isn't required to monitor his environment but must be ready to intervene when the ADAS alerts him to do so.
According to three panelists at the Future Truck Session at the American Trucking Associations' 2018 Technology & Maintenance Council Annual Meeting, the industry likely will never see Level III, instead jumping straight to SAE Level IV (high automation) in which the vehicle can perform all necessary driving functions under certain conditions.
The problem with Level III, they say, is the sensors' abilities to scan far enough ahead of the vehicle to allow enough time to warn the driver to take over and avoid an incident.
"If your sensor sweep can only see out 300 meters, you're not going to give that driver enough time to understand that an incident is setting up," said Chuck Price, vice president of product for TuSimple, an automation company currently setting up test locations for Level IV automation in China and Tucson, Ariz.
It can take several seconds for a nonattentive driver to reassume control of the vehicle. The problem is magnified when trying to maneuver and stop an 80,000-pound vehicle on the road.
"Generally, with Level III you'd be trying to hand back control at times that are most safety-critical," said Jonny Morris, head of public policy for Embark, a San Francisco-based self-driving truck company currently developing software to power SAE Level IV highway automation commercial vehicles. "It doesn't really seem viable for commercial vehicles, and I think most of the passenger vehicle automation companies have decided that as well."
Level IV's potential to deliver return on investment is the Holy Grail of self-driving trucks, said Bill Kahn, Peterbilt's principal engineer and manager of advanced concepts, primarily because of its ability to deliver more productivity and potentially preserve a driver's hours of service if regulations were changed to allow a driver to go off-duty during long stretches of driving.
"If you think about a truck that can go through a traffic jam by itself for an hour or manage itself on the highway for two hours and the driver gets to drive an additional two hours, that's increased revenue and productivity," said Kahn. "Eventually we'd like to get to the point where the driver can actually take his 10-hour break in the sleeper of the truck while the truck continues to move."
As enticing as that sounds for an industry struggling with productivity limitations and a crippling driver shortage, it will take years and millions of test miles before Level IV becomes a reality. And that's not necessarily a bad thing.
A recent pedestrian fatality involving a self-driving Uber vehicle demonstrated how a single incident can ignite public backlash and shake confidence in autonomous vehicles. A specially fitted Volvo XC90 SUV traveling 40 mph struck a woman walking her bicycle across a four-lane divided street, causing Uber to suspend its self-driving fleet of vehicles in its four test markets.
It's hard to argue against ADAS abilities to react more quickly than a human to avoid incidents, but as the Uber system shows, those systems aren't perfect. Once fully developed, autonomous trucks surely will reduce accidents and save more lives, but it's not a matter of if, but when, that first incident occurs. And when it happens, the trucking industry must have the science and test miles to defend the merits of autonomy.