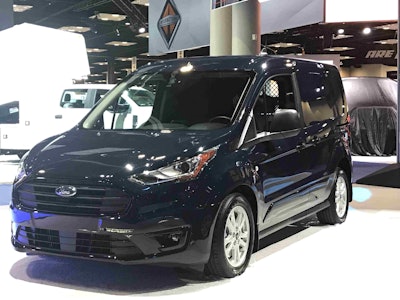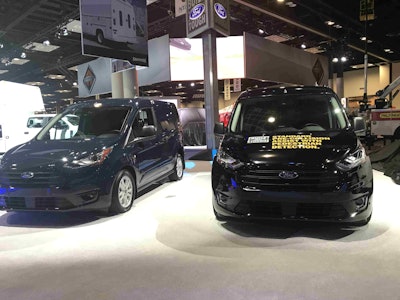 Ford is adding two new powertrain options to its 2019 Transit Connect cargo van, including the only available diesel in the segment.
At the Work Truck Show in Indianapolis on Tuesday, the Detroit automaker pulled the curtain back on a host of upgrades to its compact commercial van – the third generation in nine years – including new and exclusive driver-assist technologies like Automatic Emergency Braking. Also standard for the coming model year are side wind stabilization, a rearview camera and pre-collision assist with pedestrian detection to help avoid collisions with other vehicles and pedestrians who might cross in front of the vehicle's path.
Transit Connect Cargo Van, for the 2019 model year, will debut as the only vehicle in its segment to offer such technology as standard equipment across all models. John Rupert, Ford's general manager of commercial and government operations, says the company has sold 300,000 vans since its 2009 debut and 97 percent of them are still on the road.
Available options for the next model year include a blind spot information system with cross-traffic alert, a lane keeping system and a radar-driven adaptive cruise control. The new Transit Connect also gets a major technology upgrade that allows users to turn their vans into a remote work space.
"Back in 2009, if you wanted to bill a customer, you needed to go back to your office," says Tim Stoehr, Ford general fleet marketing manager.
"The business now involves your mobile phone and staying connected," says Adrain Aguirre, chief engineer for Transit Connect. "The mobile phone is the lifeline back to the business."
Tools like the only standard embedded 4G LTE modem in the segment provide Wi-Fi for up to 10 devices, while an available 6.5-inch floating touch screen running SYNC 3 helps drivers keep their eyes on the road as they field customer calls and text messages hands- free or navigate to job sites.
Available wireless phone charging is a segment-first feature that keeps compatible mobile devices topped off and ready for service. FordPass helps monitor small fleets, including driver location, fuel level, tire pressure and more. Ford's MyKey programmable ignition key remains standard for Transit Connect XLT enabling owners and fleet administrators to preset warnings and limits for vehicle speed, while restricting the entertainment system's audio to 45 percent of maximum volume. Transit Connect's interior has also been rethought. Redesigned front seats with new seat foam offer enhanced comfort over the previous model as Aguirre says drivers spend an average of eight to 10 hours in the van.
Three powertrain options
The 2019 Transit Connect Cargo Van will offer three different engines capable of operating on five different fuels.
A 2-liter inline four-cylinder gasoline direct injection engine will be standard and features Auto Start-Stop. It is E85-compatible and comes with a standard heavy-duty battery and available heavy-duty alternator to supply power to upfit applications.
It's paired to a new 8-speed automatic transmission.
Transit Connect's new 1.5-liter EcoBlue diesel engine – the only diesel in the segment – is targeted to have an EPA-estimated fuel economy rating of at least 30 mpg on the highway. The new diesel engine combines the latest in fuel injection, turbocharging and emissions-control technologies as well as Auto Start-Stop for reliable performance along with reduced fuel consumption. The new EcoBlue engine is also fitted with the 8-speed automatic transmission.
"We're targeting to have at least 30 miles to the gallon for the highway," Aguirre says.
Both the new 2-liter, the 1.5-liter EcoBlue come with EcoMode and EcoCoach, which helps monitor fuel economy and encourage fuel-efficient driving behaviors.
A 2.5-liter inline four-cylinder with 6-speed automatic and CNG/propane gaseous fuel prep package is also available exclusively for fleet customers.
Cargo capacity
Transit Connect features 180-degree swing-out rear cargo doors that can be locked in the open position, making loading a 48-inch pallet with a forklift easier. Also included are city-friendly dual sliding side doors, a wide and flat load floor finished in vinyl, near-vertical walls and integrated tie-downs. The cargo van comes with a towing capability of 2,000 pounds when paired with the available tow package.
"The vocational reach for this product is really unlimited," Rupert says.
With a 38.3-foot curb-to-curb turning diameter, the short-wheelbase Transit Connect can easily maneuver and park on tight city streets.
The 2019 Ford Transit Connect cargo van goes on sale this fall.