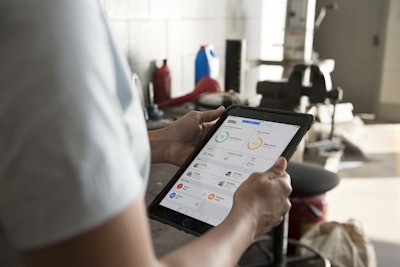 Verizon Connect has introduced Workforce, a "one-stop" system for operations and fleet managers to plan, monitor, dispatch and capture form data from the field as well as communicate with customers.
Workforce is available in three plans – Essential, Enhanced and Ultimate. Verizon Connect says each plan is designed to meet workforce management needs that include retaining drivers, improving work experience and communication with workers in the field.
"Operations and fleet managers want one place where they can find everything they need to be able to monitor and adjust work plans throughout the day without compromising productivity," said Mark Wallin, vice president of product management at Verizon Connect. "Workforce provides a simplified approach to mobile workforce management that gives customers easy access to the actionable data that can help drive operational efficiencies and cost savings."
The Workforce Essential plan allows customers to assign and dispatch work, capture field data via digital forms and monitor productivity through planned vs actual (PVA) reporting.
The Enhanced and Ultimate plans have enhancements for intelligent dispatch, which allows customers to easily dispatch work, while taking necessary business constraints, licensing requirements and commercial navigation into account; estimated times of arrival (ETA), which enable businesses to provide up-to-the-minute driver ETA to their customers; and strategic planning, which helps businesses make the best use of their vehicles and field workers through advanced optimization algorithms that allow them to generate and analyze what-if scenarios in near real time.
These plans also allow fleets to plan around factors such as mile reductions, electronic logging device (ELD) compliance, and/or customer service-level agreements (SLAs).
For more information about Workforce, visit www.verizonconnect.com.