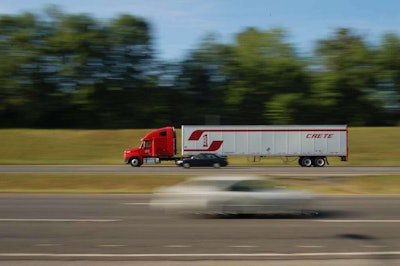 CCJ's Indicators rounds up the latest reports on trucking business indicators on rates, freight, equipment, the economy and more.
FTR projects surge in truck, trailer orders: Due to industry capacity constraints brought on by a hot freight market — and with those conditions expected to continue through the year — transportation economic research firm FTR on Monday announced it has "significantly" boosted its forecast for orders for new trucks and trailers in 2018.
FTR now projects Class 8 orders to reach 330,000, and trail orders to reach 334,000.
Class 8 truck orders totaled 290,000 in 2017, 250,000 in 2016 and 284,000 in 2015.
"There is a capacity crisis occurring as surging freight growth is combining with lower productivity due to ELD implementation. Many shippers began having problems finding trucks to move goods as early as September 2017. Conditions continued to tighten and now it is a nationwide issue," says FTR analyst Don Ake. "When the economy exceeded expectations in the second half of 2017, those forecasts were increased further. And now with the tax reform package, the economy is generating even more freight and orders for trucks and trailers are pouring in."
Trucking employment climbs: The for-hire trucking industry added 5,600 jobs on a seasonally adjusted basis in February, according to the Department of Labor's monthly Employment Situation report.
Employment in the for-hire trucking industry totaled 1.47 million jobs in the month, according to the DOL, up nearly 18,700 jobs from the same month last year.
The economy as a whole added 313,000 non-farm jobs, the Labor Department reported Friday. The country's unemployment rate remained 4.1 percent.
The transportation and warehousing sector, the umbrella sector for truck transportation, added 15,400 jobs in February. The construction industry added 61,000 jobs, and the manufacturing industry added 31,000 jobs.
Trucking's total is based on payroll statistics of employers and does not account for those who change jobs in the month or for those working for private fleets.