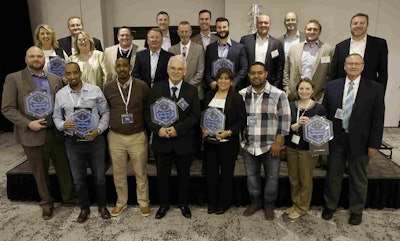 For the second consecutive year, C.H. Robinson has recognized North American truckload contract carriers with the presentation of Carrier of the Year Awards. The program expanded to include seven contract carriers this year, all of whom are a part of C.H. Robinson's Carrier Advantage program and were nominated by their carrier representatives.
"The contract carriers recognized this year have been focused on working with C.H. Robinson in a dynamic and evolving industry. Whether the relationship is new or they have been with us for decades, these carriers are critical to our business," said Bruce Johnson, director of capacity development. "They provide incredible value through their dedication to the strong relationships they have built with our team and the efficient business practices they follow that allow our organizations to grow together."
The following award winners are recognized for service, embracing technology and quality relationships with C.H. Robinson:
Owner/operator: Agristar, LLC, Cassadaga, NY
2-10 trucks: Jose Manuel Amaya Araniva, Bloomington, CA
11-50 trucks: Skymile Logistics, Inc., Stone Mountain, GA
51-100 trucks: Pope Trucking, Inc., Pearson, GA
101-300 trucks: A.N. Webber, Inc., Chebanse, IL
300-999 trucks: Cargo Transporters, Inc., Claremont, NC
1,000+ trucks: Melton Truck Lines, Inc., Tulsa, OK
C.H. Robinson's Carrier Advantage program supports 73,000 contract carriers. The program provides contract carriers earlier access to freight, a dedicated carrier representative, discounts with the QuickPay program, contractual freight opportunities and the ability to submit offers via Navisphere Carrier, C.H. Robinson's technology platform.