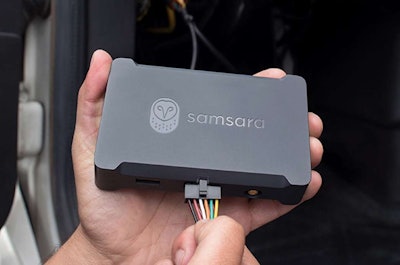 Samsara, an enterprise IoT systems company, has raised $50 million in growth capital from investors Andreessen Horowitz and General Catalyst. The new funding comes as Samsara says its transportation business is adding over 1,700 new customers every quarter.
Samsara offers what it describes as "a complete data platform" for transportation operations that combines real-time GPS tracking, wireless sensors, video, and mobile applications.
With the new funding, Samsara says it will be able to scale its customer support and enablement to serve thousands of new customers, and will expand its platform with new sensors, software, and AI-driven data analytics to bring new business value to its users.
The company plans to grow from 300 employees to over 550 by year-end and will more than double its California-based engineering and customer support teams.
"Samsara is onboarding thousands of new customers each quarter as organizations increasingly adopt IoT in their fleets," said Sanjit Biswas, co-founder and CEO of Samsara. "We've received an enormous volume of product ideas and feedback from our users, and over the past six months we've launched three new product families and dozens of software features."
New customers are joining the company from:
Food and beverage distributors to monitor food safety during transit with wireless temperature and cargo sensors;
Trucking companies to reducing distracted driving and increase safety with gamification and in-cab cameras;
Construction firms to optimize inventories of generators and heavy equipment;
School districts to help parents locate lost children by tracking bus passengers in real time.
Cities to help residents navigate winter storms by publishing live snowplow paths
"Samsara is continually focused on improving the product," said Bill Carragher, CEO of Local Motion, a Boston-based passenger transit company. "Their platform has already made an impact by improving the safety and efficiency of our operations. But we chose it because we knew it would grow to meet our needs."
With the new funding, Samsara says it has more than $100 million of cash on hand to make long-term product investments and provide support to its rapidly growing customer base. The new investment brings Samsara's total capital raised to $130 million and values the company at $1.4 billion.