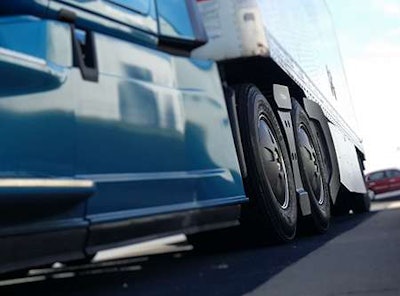 Finding fuel efficiency gains on today's trucks and trailers isn't easy. With so many options on the market, the math is complex on payback calculations and the risk can be high for investing in solutions that won't offer payback though its lifecycle if placed in the wrong application.
When considering the array of products available, North American Council for Freight Efficiency Executive Director Mike Roeth says it's wise to find solutions that allow users to wade into the water slowly and settle for smaller dividends rather than taking a big gamble and chasing major savings that may never materialize.
"It's hard to test for 1 or 2 percent improvement," he says. "Bigger plays with [automated] transmissions, [6X2] axles and other bigger aerodynamic things, those are ones where a lot more due diligence is required as some kind of adverse consequences can kill you [financially]."
On-highway trucks come standard with improved aerodynamics and Roeth says wheel covers would be the next logical add-on if you're looking to simply maximize airflow around the truck itself.
"We've seen that [wheel covers and] the devices between the tires do deliver fuel savings," he says. "Some people worry about their durability and serviceability but those problems seem to be smaller."
A tire's rolling resistance accounts for nearly 25 percent of the truck's fuel consumption and Mike Manges, manager of commercial tire communications for Goodyear Tire & Rubber Company, says about one-third of a standard, long-haul tractor-trailer's drag force is due to tire rolling resistance. That's led to the prevalence of low rolling resistance tires, but Manges says rubber technology is already being pushed beyond current EPA standards.
"While SmartWay verification will remain part of the long-haul truck tire landscape, Greenhouse Gas Phase 2 rolling resistance requirements will drive demand for tires that even exceed SmartWay thresholds," Manges adds. "We call these products 'super-fuel' tires and we believe that fleets will ask for more of them."
Tire selection, and keeping those tires inflated, is critical as for every 10 PSI that a tire is underinflated, a fleet loses up to 1 percent in fuel efficiency.
The integration of an Automatic Tire Inflation System (ATIS) can be an easy way to mitigate under-inflation according to James Sharkey, PSI's senior director of global sales and marketing.
"Have you ever pulled a kid's wagon or ridden a bike with underinflated tires," Sharkey asks. "If your tires aren't properly inflated, it's really difficult."
A high-mileage van fleet running upwards of 80,000 miles annually, Sharkey says, can expect to save $600 dollars or more at current fuel prices by simply keeping trailer tires inflated.
"That will almost pay for your ATIS just in year one," he adds.
Efficiency isn't a lot of fun until your fuel bill comes, but not every gain has to be science-based and go un-noticed.
Rob Stock, general manager of Hendrickson bumper and trim, says the company's AeroClad bumpers offer weight savings of up to 55 percent over a seven gauge steel bumper while also offering a pop of flash and added durability for fleets who generally spec plastic bumpers to save weight.
"From a fuel economy standpoint, Hendrickson contracted a study to test fuel consumption on identical trucks between OE plastic and AreoClad," he says. "The conclusion was virtually no difference in fuel consumption between OE plastic and the AeroClad bumper."
Trailer gap treatments, in limited on-highway testing, are showing similar returns to trailer tails and skirts of about 2 to 3 percent.
"I'd almost given up on that area," Roeth says. "That seems to be an area of opportunity. I thought that was worth maybe one-and-a-half [percent fuel economy improvement] and we're seeing testing out there two-and-a-half, three-and-a-half, four [percent] improvement in the real world."
Jon Morrison, president of the Americas at Wabco, says the combination of front and rear aerodynamic fairings for trailers can improve fuel economy between approximately 1 to more than 5 percent, "but collectively can improve fuel economy by more than 9 percent."