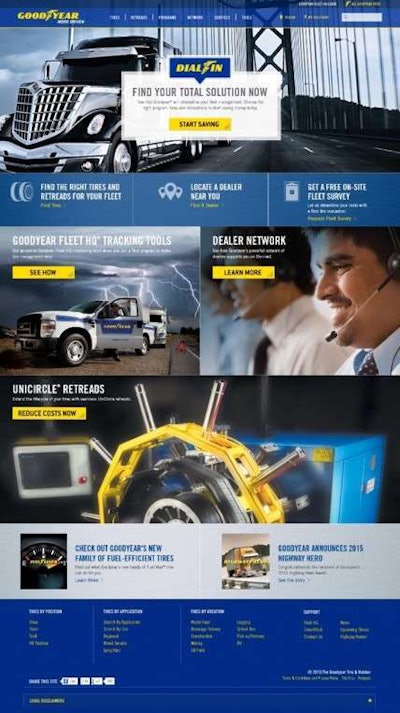 The Goodyear Tire & Rubber Company has revamped its commercial tire Website and geared it to better help fleets find a "Goodyear Total Solution" that meets their needs.
One of the site's key features is the introduction of a "My Solutions Finder," which connects users to the nearest Goodyear Commercial Tire & Service Network dealer.
"We came up with this idea that when we do talk to fleets, we ask them a few question to learn a little about them so we can better provide information to them," says Dustin Lancy, business solutions and digital brand manager, Goodyear.
My Solutions Finder helps fleets target their largest areas of concern and isolates the solutions Goodyear can provide based on the information the fleet provided about its needs, application and size.
"At the end, what we really want to do is to be able to capture that fleet's information and provide that information to sales," Lancy says, adding that information helps provide a better follow-up process between Goodyear and the customer. Fleets can request sales follow-ups from Goodyear.
In addition, the site features enhanced tire and retread selectors, which allow fleets to search for products by application, vocation, name, size, technologies and SmartWay verification.
Goodyear also updated its Fuel Savings Calculator, which Lancy says is a key part of the site.
The site also gives owner-operators and small to mid-size fleets the ability to connect to the Goodyear Smart Fleet portal, where they can enroll in the Goodyear Smart Fleet program.