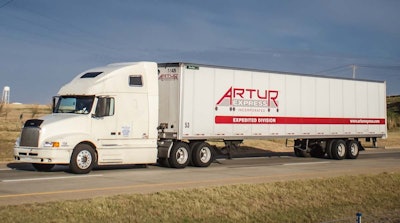 Artur Express (No. 192 on the CCJ Top 250) is kicking off its 20th year in business with the purchase of $3.5 million in new dry van and reefer trailers and $20 million in new trucks.
Earlier this year, the fleet announced plans to begin construction on a new headquarters in the St. Louis area this year.
Now, the company is adding to its fleet with 135 new trucks and new trailers. Artur Director of Operations Kristi Randall says the new trucks and trailers will allow for additional drop-and-hook capabilities for its drivers.