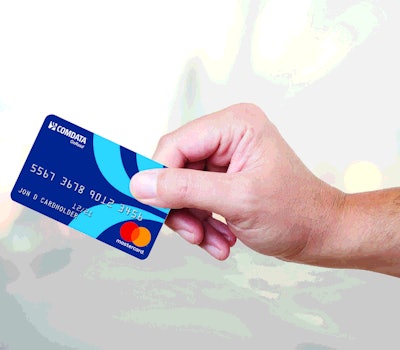 Comdata has developed a new multi-purse card that will be replacing its existing card programs that fleets and drivers use for fuel purchasing and fund transfers.
The company made the announcement at its annual Comdata Exchange user conference in Phoenix, April 8-10.
Comdata has been working on the new card program for nearly a year to help ensure that fleets are in compliance with state payroll laws while giving drivers a better work-lifestyle experience.
Unbanked transactions
Greg Secord, president of Comdata North American Trucking, met with CCJ at the Comdata Exchange conference to provide additional details about the announcement.
For many years, motor carriers have used Comdata card programs to pay for fuel and issue payroll and settlement funds to drivers. Approximately two thirds of Comdata's largest fleet customers use both its fuel and funding cards, he says.
As a mobile workforce, many drivers prefer to receive pay funds through card programs instead of checks or direct bank deposits. For example, card programs help many fleets distribute pay to the approximately 15 percent of drivers in the workforce who are unbanked, according to a study by ADP, a payroll solutions provider.
Drivers with bank accounts may still want to receive funds on a card so they can make cash withdrawals at truck-stop ATMs and other locations on the road.
Until now, Comdata has been offering separate fuel and fund cards. Fleets use the fuel card to automate purchase controls and administer discounts. With its Comdata Express Cash card they issue cash advances to drivers and disburse payroll and settlement funds.
Payroll compliance
Secord explained that states have made payroll laws stricter to protect workers from paying fees to withdraw their earnings from card programs. Comdata's Express Cash card has a fee for drivers to withdraw cash from ATMs and from merchants in Comdata's fuel network.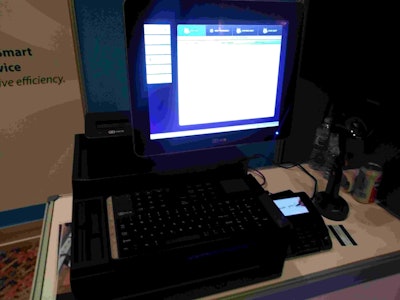 With the release of OnRoad, Comdata has combined its fuel and fund transactions into a single card program.
The fuel transactions continue to work the same. OnRoad automatically recognizes fuel transactions and charges the amounts to fleets. When drivers use the OnRoad card for a non-fuel purchase, it automatically debits the driver's personal fund balance.
In developing OnRoad, Comdata widened its network of ATMs and eliminated third-party surcharges for cash withdrawals. The OnRoad card is accepted everywhere in MasterCard's Signature-Debit network with no transaction fees.
Besides complying with the patchwork of state payroll laws, OnRoad meets federal laws like the Patriot Act that requires a Customer Identification Process (CIP) to verify card holders are not on a government "watch list."
To be issued an OnRoad debit card, drivers must provide their name, address, date of birth, Social Security number, email address and a phone number.
A digital wallet
Over the next few months, Comdata will be integrating OnRoad with the Comchek Mobile platform it launched one year ago.
Comchek Mobile is a peer-to-peer (P2P) payment platform for the trucking industry with functionality similar to consumer P2P applications like PayPal and Venmo. Drivers can sign up free by downloading an app to receive a unique Comchek Mobile ID number.
Fleets and freight brokers are using the cloud-based Comchek Mobile platform to transfer funds to drivers. Likewise, drivers are using Comchek Mobile to send payments to vendors, such as lumpers, using the unique IDs of other users in the network.
Comdata plans to link Comchek Mobile to drivers' OnRoad debit cards so they can transfer funds to their card balance or to their external bank accounts.
With both platforms, Comdata has made it easier for drivers to receive funds from motor carriers and freight brokers. This gives companies an opportunity to pay drivers faster to better attract and retain them, Secord says.
Both technologies can be integrated with back office software systems and accounts payable functions. With the integration, a freight broker could offer drivers an instant-pay program, for example.
A broker could issue a portion of funds to a driver's Comchek Mobile or OnRoad card when the driver picks up the load, and then issue the remaining funds upon delivery.
"Instant pay options are becoming a differentiator," he says.
Uber Freight is using Comdata's OnRoad card to issue instant payment to drivers in this manner, Secord says.
Seamless transition
Fleets and freight brokers will be able to use their existing administration methods for OnRoad and Comchek Mobile. These methods include Comdata's web portal, iConnectData, and real-time web interfaces with back-office systems.
At the conference, Comdata told its customers that OnRoad will soon be the only card they will be using for fuel transactions, pay funds, or both. The company plans to sunset the Express Cash card by the end of 2018.
More than 60 fleets are already using OnRoad cards. During the conference, Comdata showed statistics on how drivers have used the OnRoad debit MasterCard to pay for vacations, Netflix subscriptions, to send money to family members and more.