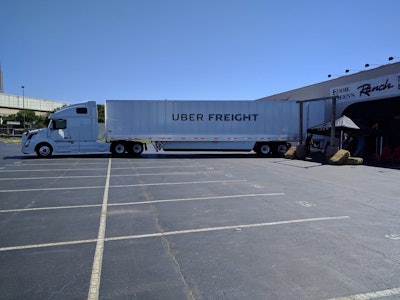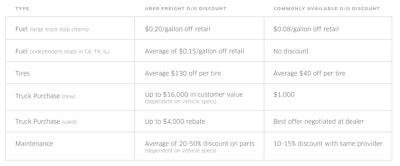 Uber Freight on Wednesday, March 21, rolled out a new rewards program aimed at helping small fleets and carriers reduce operating costs.
The Uber Freight Plus program includes fuel and maintenance discounts, discounts on cell phone plans, as well as rebates on the acquisition of additional equipment.
"The discounts are some of the same – or even better – that you would find around the industry," says Uber Freight Senior Product Manager Eric Berdinis.
The Uber Plus program includes a Comdata-backed Uber Freight Fuel Card, good for 20 cents off diesel retail rates at TA and Petro truck stops nationwide. A smaller discount is available from members of the Roady's network of independent truck stops.
A discount of up to 30 percent on Goodyear tires – bought at any sales location — is also built into the program. Julia Zaga, Uber Freight's senior business development associate, says the tire discount is applied at the time of purchase, adding tires can be bought from any Goodyear-authorized dealer.
Carriers don't need to use the card to buy the tires, Zaga says. They simply must be an active enrollee in the Uber Freight Plus program, and the card "could be your proof of membership when you take it to the TA Petro" not only for tires but parts as well.
To be eligible for enrollment in Uber Freight's rewards program, a carrier must book at least one load per month through the Uber Freight platform or risk having their fuel and tire discount privileges suspended. Carriers utilizing Uber Freight can apply for the fuel card "while you're taking your first load," Berdinis says.
He adds that drivers will be notified as a potential suspension date draws near and given enough advance warning to book a load to continue with the program.
Through a partnership with Navistar, active Uber Freight carriers can get between 20 and 50 percent off truck parts, up to $16,000 off the sticker price of a new truck and up to $4,000 in rebates on the purchase of a used truck in the truck maker's authorized dealer network.
Active carriers must first book 10 loads through Uber Freight before being eligible for the new and used truck discounts.
Additionally, active carriers also are eligible for discounts on monthly Sprint phone plans and accessories. The partnership on the fuel card with Comdata, too, could deliver bonus benefits to drivers in future, all aimed at "making the business side of running a small fleet" cheaper and easier, Berdinis says, through potential IFTA processing and/or other legal service fees and select discounts on hotels and motels.
Find initial discount details of the Plus program below.
Fuel (large truck stop chains): $0.20/gal off retail
Fuel (independent truck stops in CA, TX and IL): Average of $0.15/gal off retail
Tires: Average of $130 off per tire
New Truck Purchase (Navistar International): Up to $16,000 in customer value (dependent on vehicle specs)
Used Truck Purchase (in Navistar dealer network): Up to $4,000 rebate
Maintenance: Average of 20-50 percent discount on parts (savings vary on fleet size and maintenance needs)
Todd Dills contributed to this report.