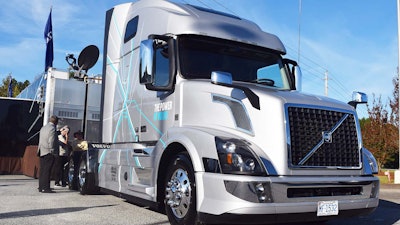 Nyberg accepts board position at MAN Truck & Bus
Per Carlsson, global senior vice president of strategy and transformation for Volvo Trucks, has been named acting president of Volvo Trucks North America. Carlsson is filling in on an interim basis for former VTNA chief Göran Nyberg, who has accepted a position as the executive board member for sales and marketing at MAN Truck & Bus AG, effective September 16, 2018.
Carlsson has been with the Volvo Group for 33 years and previously served at president of VTNA from 2008 to 2009. The company has launched a recruitment process to find a permanent replacement for Nyberg.
Nyberg had served as VTNA president since September 2012. In 2017, Volvo Trucks posted an 8.3 percent share of the heavy-duty truck market in North America. The company is armed for growth in 2018, having relaunched its VNL long-haul and VNR regional-haul tractors in recent months. Earlier this year, VTNA also introduced a completely redesigned VNX heavy-haul tractor.
Nyberg will replace MAN's Heinz-Jürgen Löw, who earlier this year was appointed board member for sales and marketing at Volkswagen Commercial Vehicles.
"We intend to transform the Volkswagen Truck & Bus Group, which MAN is also a part of, into a global champion of the transportation industry," said Andreas Renschler, CEO of Volkswagen Truck & Bus and chairman of the supervisory board of MAN Truck & Bus. "With his international expertise, Göran Nyberg will help to drive this transformation forward at MAN. We are very pleased to welcome him on board in what are exciting times for our company."