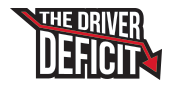 Editor's note: This is part of the second piece in a three-month series examining the driver shortage, measuring its impact on trucking operations and exploring methods to mitigate the crisis.
Strong freight, tight capacity and surging rates mean conditions for carriers "are approaching their most favorable situation in 14 years," according to FTR's Trucking Conditions Index.
Except, that is, when it comes to drivers.
Long a major headache for carriers, in today's environment, the search for drivers is "getting really, really competitive," says Gordon Klemp, president of the National Transportation Institute, whose company tracks driver pay and benefits. "In the first two months of this year, the numbers of pay changes — we've never had a first quarter that's even close," he says. "And the size of some of the changes is pretty impressive."
Desperate to take advantage of the booming freight market, carriers are offering drivers incentives ranging from higher pay and jumbo-sized bonuses to improved creature comforts and generous benefit packages. While experts say such approaches only encourage turnover, other tactics could provide long-term solutions to some of trucking's systemic problems. At the same time, increasingly sophisticated technologies are giving fleets more tools to help recruit and retain this scarce resource.
Ask drivers why recruiting and retaining them is so challenging, and three out of four say carriers "don't pay enough," according to a recent survey by CCJ sister brands Truckers News and Overdrive. That's a criticism many fleets are taking to heart: Truckers News has reported more than 25 pay changes since October, and Klemp notes that many took effect immediately. Historically, fleets might announce a pay bump in January but make it effective in late March, he says.
Klemp also expects some fleets that made announcements early in the year to raise pay again, possibly in the third quarter, based on competitive pressures and continuing strength in freight rates. "Pay won't move unless rates are going up," he says. Klemp predicts that if GDP is above 3 percent in the last three quarters, pay will be 15 percent higher on Dec. 31, 2018, than it was the prior year.
Alongside pay increases, many fleets are offering attention-grabbing sign-on bonuses. Klemp's company reports median sign-on bonus amounts in February were three or four times as high as those a year earlier, depending on the segment. While such bonuses are common, many experts suggest any sign-on pay beyond what's needed to cushion the transition to a new job only encourages turnover.
And sign-on bonuses may not be all that effective — at least for attracting the best candidates. Most veteran drivers "don't trust them," says Michael Fisk, director of hiring, marketing and driver development for Roadmaster Group, based in Glendale, Ariz. That's perhaps why only 2 percent of respondents to a recent Truckers News survey said they would change jobs for a large sign-on bonus.
Where the job seekers are, pay climbs highest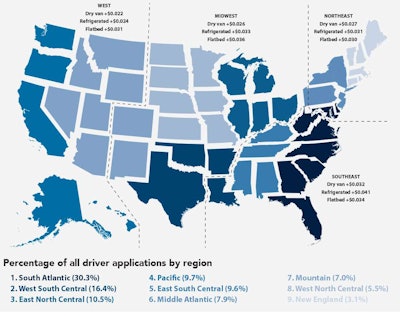 The eight states in the South Atlantic region (Delaware, Maryland, West Virginia, Virginia, North Carolina, South Carolina, Georgia and Florida) accounted for 30.3 percent of all Class A driver applications in 2017 as tracked by Randall-Reilly. As of the first quarter of this year, driver pay increases for dry van fleets in the Southeast ($0.032) led all regions, outpacing the national average by 18.5 percent and a full penny per mile better than the West region.
Driver pay changes are grouped into four regions based on analysis from the National Transportation Institute and are separated by dotted lines. Driver application volume is tracked by the nine regions defined by the U.S. Census Bureau, and states in each region are grouped by color.
Fleets in the Southeast that typically lag other regions in terms of pay have announced the largest cost-per-mile raises, Klemp says. "The aggressiveness of pay changes down there might indicate they are hurrying to catch up to their counterparts in the Midwest and Northeast where they bump up against them." The Northeast is historically the highest-paying region, and pay changes there have been fewer, he says.
Increasingly, fleets are tailoring pay packages to not only attract new talent but also reward existing drivers. K&B Transportation (CCJ Top 250, No. 124), based in South Sioux City, Neb., recently announced graduated pay increases tied to company longevity and starting at zero to six months on up to more than five years. Similarly, Joplin, Mo.-based CFI announced its Experienced Driver pay package in November when "we realized it took too long for our own experienced drivers to reach the top of our pay scale," says Michael Hinz, senior vice president of sales and operations.
Bringing consistency to driver pay is key, says Phil Byrd, chief executive officer of Bulldog Hiway Express, based in North Charleston, S.C. "Drivers and potential drivers are looking for reliable income — not $1,000 this week, $500 next week," Byrd says. "They want a predictable weekly income like most people do." Drivers paid on Bulldog's "salary plus" receive a salary and then incentives to help them earn above their base.
The growth of Amazon and consumer expectations for next-day deliveries have enabled teams to command large pay premiums, Klemp says, with experienced teams getting "into pretty rarified air" compensation-wise. Some carriers such as Tennessee-based Covenant Transport (No. 39) and U.S. Xpress (No. 16) are offering teams substantial bonuses. Covenant's program pays $2,000 every time a team passes 60,000 paid miles together, up to a total of $40,000. U.S. Xpress has a similar plan but is offering a $50,000 bonus paid in $2,000 increments and in vacation time over a four-year period to current and future team drivers.
Beyond pay and bonuses, many carriers are looking for creative ways to cut through the recruiting noise and get drivers' attention. Inwood, N.Y.-based Express Trucking & Courier, which provides expedited high-value shipping, offers free health insurance for drivers and their families with a $15 co-pay through United Health Care — a benefit that Ken Deocharran, Express president, values at $2,000 per month. If drivers already have medical coverage through a spouse, they can use the money to pay for their mortgage, rent or car payment, up to the $2,000, he says. The concept has been well-received, Deocharran says. "We put out an ad, and within 24 hours, 60 drivers responded. … It gave us a competitive edge in the market."
However, it does little good to raise pay, boost bonuses and sweeten benefits if fleets don't communicate these changes effectively to potential candidates and their own drivers. That's where technology plays an increasingly important role. Whether through social media, email or a customized fleet portal, successful fleets use any means available to cultivate relationships with drivers. "It used to be 'yes' or 'no,' " says Roadmaster's Fisk. "Now, if it's a 'no' now, we're going to stay in touch with you. It has to be relational, where they're interacting with you as well."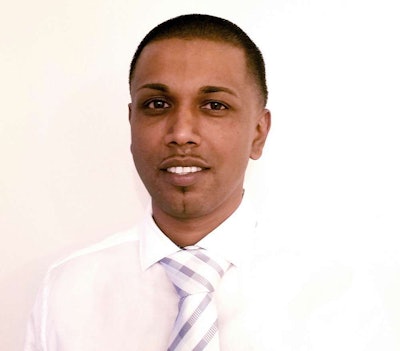 Offering free family health insurance "gave us a competitive edge in the market."
– Ken Deocharran, Express Trucking & Courier
As carriers deal with the realities of today's more severe driver shortage, many are looking for ways to be more flexible in their hiring standards while maintaining safe operations, FTR notes in its Trucking Update. Fisk suggests fleets take a more sophisticated approach to hiring. "We constantly assess and reassess how we hire," he says, evaluating each candidate from an individual perspective.
If a driver had a traffic accident at 19 and now is 35, Fisk considers the current level of maturity and possible change in habits "instead of just having a list of nonqualifiers," he says. Such flexibility may require implementing additional programs or other requirements for the new hire to be successful.
Meanwhile, despite fleets' best efforts to recruit each other's drivers, many are content to stay put. Amid the flurry of carrier pay announcements, last month Truckers News and Overdrive asked drivers and owner-operators how likely they were to change jobs. Forty-seven percent said they have no plans to jump carriers because they are happy with their current employer. Another 17 percent said changing jobs was "just too much hassle."