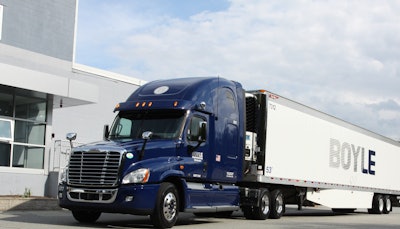 As noted in this previous article, a convergence of technology is happening with advanced driver-assist systems (ADAS) and fleet safety data that makes it possible to identify more complex patterns of risk.
A growing number of onboard platforms now integrate data from cameras and sensors in an around the vehicle to create a "single source of truth" to assess driver performance.
It's not enough to integrate driver safety technology, as it "must also be easy to use and be an integral part of what is already occurring in that driver's cab," says Jeff Champa, vice president of product management at Omnitracs. "The last thing a driver needs are more distractions."
As a fleet management provider, Omnitracs doesn't add more lights or audible alerts in the cab, explains Drew Schimelpfenig, who leads the company's Safety Center of Excellence. Instead, its mobile platforms integrate with ADAS technologies to pick up event data, video and supporting details for management to review, he says.
Now that technology can deliver a comprehensive view of risky driving behaviors, how can fleets refine their coaching and training to address very specific areas?
Targeted training
Online training provider CarriersEdge can set up training to automatically assign to drivers based on the occurrence of critical safety events, says Mark Murrell, its vice president of sales and marketing, "but that does not solve the problem and it can end up backfiring."
When drivers are automatically assigned training, they may feel more pressure to complete training that doesn't seem to apply to their needs and feel separated from the company.
"It doesn't work out well," he says. The better approach is for managers to look at event video and data to evaluate the incident and talk to the driver to work out a corrective plan of action, he says. Automatically assigning training often misses the root cause.
As a professional truck driver for 10 years and seven years in operations and safety management, Michael Lasko knows what type of training resonates with drivers. For the past three years he has been a manager of safety and quality for Boyle Transportation.
Getting it right, from the start
With a fleet of more than 65 tractors, Boyle Transportation, based in Billerica, Mass., was recently awarded first place by the Truckload Carriers Association in its fleet safety awards program (5 million to 14.9 million category). For the past four years the company has also been named a Best Fleet to Drive For.
"If you have a culture of safety and work with drivers as professionals – helping them improve in specific areas and treating them with the respect they deserve – then you're working together in partnership," says Lasko. "We feel we do that and it helps contribute to our low driver turnover rate. And we also feel it plays a part in reducing accidents and having a confident and professional driver behind the wheel."
Boyle Transportation starts training drivers during a one-week orientation program. Its training includes the Smith System.
"We also individualize our instruction during orientation," he says. "If we see an area where a driver might need more instruction, we then utilize driver training modules from CarriersEdge. For example, if a driver needs to develop more skills and knowledge in hazmat hauling, we can have the driver take that online coursework."
Boyle started using CarriersEdge in 2016. "Prior to CarriersEdge, we had been using a video-based training program, but we felt the material was a bit dated and drivers weren't engaged."
Lasko said the way CarriersEdge puts together its training modules – through animation, video and text, coupled with questions along the way – helps drivers stay engaged. "They can't move forward unless they're learning and comprehending the material."
Ongoing training needs
After drivers complete orientation, assigned training continues on a quarterly basis. Boyle Transportation assigns a module that fits with the season or the company and industry trends.
"We also assign other course work on an as-need basis. If we have drivers who will start going up into Canada, then we will have them go through the cross-border module," he says.
According to Lasko, some companies overdo training when a problem with a driver arises.
"Training shouldn't be punishment," he said. "I know from past experience as a driver that no one wants to take training in areas where problems don't exist."
When an incident occurs, "we do a deep dive to see what the issue was and concentrate on that," he continues. "We will view video from our SmartDrive camera to understand what happened. Then we can coach the driver and assign CarriersEdge course work that addresses the issue, or do a combination, which includes in-house training. It's more helpful that way and the training is targeted to correct an area that could use improvement."