SmartDrive Systems has signed a new customer, Alamo Concrete Products Company, for its video-based SmartDrive platform.
The U.S. subsidiary of Buzzi Unicem, Alamo Concrete selected the platform after a competitive pilot program across multiple plant locations.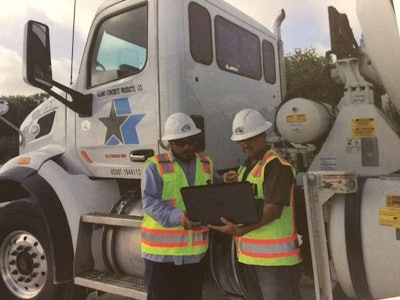 According to the announcement, Alamo management found the SmartDrive program delivered data and insight to risk much faster than the competition. Other decision factors were the imaging and resolution of the cameras, intuitive coaching workflow and extended recording capabilities that provide access to more data.
"At Alamo, we believe that safety is everyone's responsibility, from drivers to plant managers to executives," said Gene Davis, Alamo safety and DOT compliance supervisor. "The SmartDrive program supports our safety and operational objectives today, and equips us with technology that will continue to meet our needs as the company and industry evolve."
Due to a year-over-year increase in traffic and the increasing possibility of collisions, Alamo began researching technology to improve safety across its fleet of 445 vehicles. Ready-mix vehicles are uniquely prone to rollovers due to their high center of gravity and rotating drum, and the construction business demands backing and maneuvering in tight environments.
"With the additional video footage, we can get even more insight beyond the standard video. We now know what happened before and after an incident, and what led up to it. Additionally, we gain knowledge of the risk level at each site, how long an employee or vehicle has been on a jobsite and the cause of any vehicle mystery damage," continued Davis.
Alamo fleet managers were drawn to the coaching workflow of the SmartDrive program to make that part of daily operations to improve driver skills and positively impact safety.
"With active coaching, our drivers can see what they're doing and learn to correct specific actions and reactions that are putting them at risk," commented Davis. "In today's litigious society, our drivers understand the program is there to protect them and help them become safer drivers—even our owner-operators see the value of this system."
The SmartDrive program also integrates with Alamo's telematics system from Five Cubits to discover new insights across its organization.
Steve Mitgang, SmartDrive CEO, says ready-mix fleets is one of the fastest growing segments of its business.