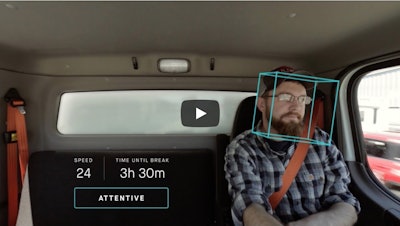 Samsara, an enterprise IoT systems company, announces the first of a coming set of new dash cam features that use artificial intelligence and computer vision to automatically detect risky driving behaviors.
The first features, available now, can detect two of the leading causes of preventable driving accidents: distracted driving and tailgating. These behaviors cause over 3,500 deaths and 400,000 injuries annually, according to the United States Department of Transportation.
Samsara offers a dash camera as part of its fleet management and data platform that combines real-time GPS tracking, electronic logs, wireless sensors, video, and mobile applications.
The platform flags harsh events as they take place for fleet managers to review the footage from those incidents. Samsara doesn't employ people to review the footage to make risk observations, which helps to keep costs down and gives fleets immediate access to data and video records, says Saleh ElHattab, product manager at Samsara.
The new features detect and tag distracted driving and tailgating events by analyzing factors such as drivers' gaze, following distance and nearby objects.
The event footage and data is uploaded to the cloud for Samsara's platform to instantly review, analyze, and categorize the incident. Fleets can immediately manage the event when it appears in the Dashboard of Samsara's web portal.
Samsara launched its Internet-connected camera one year ago and has released new safety features on a regular basis. In the coming months it plans to roll out more AI-powered features and products to enhance driver coaching, lower incident rates, and minimize accident-related costs.
The first set of features are available as a software upgrade for Samsara dash cam customers at no additional cost.