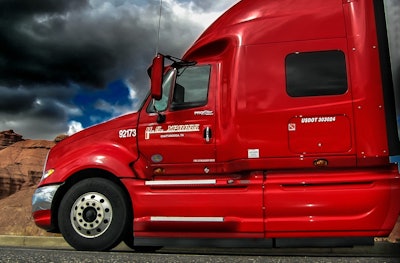 U.S. Xpress, one of the country's largest trucking companies, has filed initial paperwork with the Securities and Exchange Commission to become a publicly traded company for the second time in the company's history. The Chattanooga, Tenn.-based truckload giant says it hopes to raise up to $100 million in an initial public offering, the date for which has not been set.
The company, founded in 1986, began publicly trading on the New York Stock Exchange in 1994, and ceased trading in 2007, becoming a privately held company.
In a prospectus filed with the Securities & Exchange Commission, the company says it earned $1.55 billion in revenue in the 2017 calendar year, and posted a net loss of $3 million. According to CCJ Top 250 research, the company operates about 6,500 tractors and employs nearly 8,000 drivers.
The company says it plans to sell both Class A and Class B common stock on the NYSE under the symbol "USX." The number of shares to be sold and share pricing have not been announced.
CCJ has reached out to U.S. Xpress for more details, which will be added when they become available.