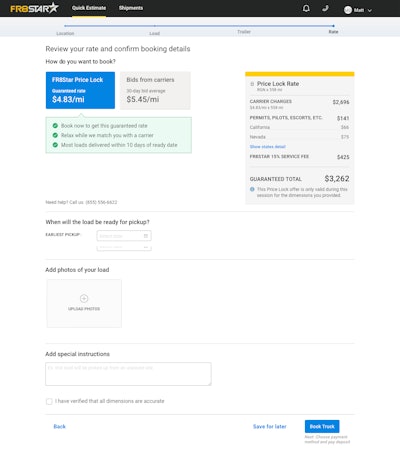 FR8 Revolution, creators of the FR8Star.com marketplace for open deck carriers and shippers, has a new Price Lock feature that allows shippers to instantly obtain a guaranteed fair market rate and immediately book freight for legal and permitted flatbed and open deck freight.
The company says the entire process from estimate to payment and confirmation can be completed in less than 5 minutes.
FR8Star.com is a specialized transport marketplace for moving open deck and oversize / overweight loads. Since 2015, FR8Star has worked with over 4,000 active open deck carriers with 50,000 available trucks.
The new Price Lock feature allows shippers to enter their open deck freight details, agree upon an all-inclusive price with necessary permits, pilot cars, and standard service fee, then FR8Star matches and books a qualified carrier. The guaranteed rate is fully transparent with detailed line items for permits, linehaul and any third-party fees.
To ensure reliable and secure permit data, FR8Star says it has worked with each state's transportation department to obtain precise permit requirements.
"It has never been easier to book oversize/overweight loads such as large equipment or machinery," said Carl-Christoph Reckers, co-founder and COO of FR8Star. "Shippers can access FR8Star's online technology from anywhere 24/7 and book shipping. What used to be a long and tedious process to determine the correct trailer needed, an optimal shipping route and the appropriate permits is now as easy and quick as booking an airline ticket online."
"Anybody that arranges freight knows that trucking isn't always dependable. But working with FR8Star is," said Robin Ramsey, CFO of Ramsey Machine Services. "We have been in the steel and heavy equipment industry for nearly 30 years. I was nervous using FR8Star for the first time, but now it is the first place I go. It saves me a lot of time securing available heavy haul carriers."
Today, FR8Star's Price Lock Feature is available in throughout the 48 contiguous states on the most common 5 axle setups, including permitted loads.