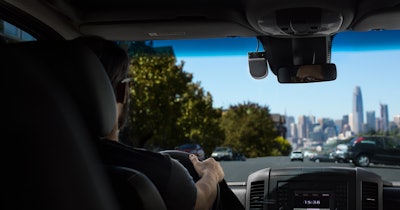 Nauto, based in Palo Alto, Calif., has been in business for three years. For the last 12 months it has been deploying its first product, an intelligent driver safety and risk management system, in commercial fleets.
The product, Nauto Coach, uses a dual-facing in-vehicle camera device and a collection of sensors and proprietary algorithms that detect situational risk and score drivers.
On Tuesday, June 5, Nauto announced a new computer vision technology for the Coach platform that instantly detects and alerts for distracted driving events.
The new technology, called Nauto Prevent, uses in-cabin alerts to coach commercial drivers in real-time and also captures and transmits video and data of risky distracted driving events to a web portal for review by fleet management.
The Nauto Coach device uses an LTE connection to upload video and other data elements associated with the events to its cloud software.
Nauto Prevent continuously monitors head and eye positions to determine if the driver is not looking at the road. It gives a series of progressive alerts according to the length of the distraction to prompt drivers to return their attention to the road.
The first warning is "a couple of beeps" if distraction lasts between two and three seconds. For distraction that lasts from three to 4.5 seconds (20 percent of distraction events), the device says "you are distracted." For events that go over 4.5 seconds, which increase the collision risk by 20 times, the driver gets an escalated set of beeps and noises.
At that point, "it is really dinging at you to get you to pay attention," says Sanket Akerkar, senior vice president of global fleets and insurance for Nauto.
With Nauto Prevent, fleets can detect distraction events independent of other high-risk events, such as a harsh brake or acceleration. The technology assesses severity of distracted driving events and includes them in the VERA score (Visual Enhanced Risk Assessment) that managers use to assess the overall risk of drivers.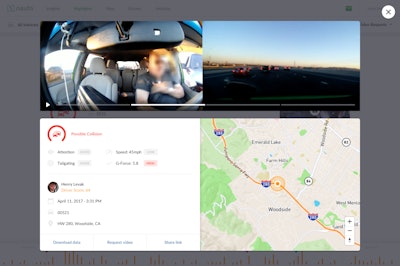 Since launching Nauto Coach, "we've learned a lot about how drivers behave behind the wheel—in fact, we've helped fleets identify that over 70 percent of severe collisions involved distracted drivers," Akerkar said.
Fleets testing Nauto Prevent have seen 54 percent fewer distractions per hour behind the wheel and some have seen more than 70 percent fewer distractions in some drivers, he noted.
Nauto Prevent is designed to stop distractions the moment they occur without being intrusive to drivers. Only a fraction of driving time when distractions or other high-risk events are detected gets uploaded to a secure web application in the cloud that gives visible to fleet managers, he explained.
"We're able to provide the safety insights that matter most while protecting the privacy of drivers," he said.
Nauto has a partnership with one of the largest commercial auto insurers, Atlas. Fleets insured with Atlas using Nauto Coach have reduced claims by 35.5 percent, he said. Atlas provides an insurance premium discount of $500 per vehicle to fleets that install Nauto Coach.
Nauto plans to introduce other high risk alerts later this year.