Salt Lake City is a major freight corridor in the western United States and California Avenue is its epicenter of trucking activity.
Numerous fleets and equipment suppliers have their headquarters and field offices along California Avenue that runs east and west near the Salt Lake City airport.
In the next 30 days, Prime Inc., one of the nation's largest truckload carriers, will begin construction on a new terminal just north of California Avenue. The new building will compliment its neighboring state-of-the-art maintenance facility that was completed last October.
Springfield, Mo.-based Prime has refrigerated, flatbed, tanker and intermodal operations. The largest division, refrigerated, has more than 4,800 trucks.
The new driver terminal and office in Salt Lake City is expected to be completed in 14 months.
On Wednesday, June 6, CCJ met with Brian Singleton, Prime's Salt Lake City terminal manager. He explained the driver amenities planned for the facility are no different than what Prime drivers already enjoy at the company's Millennium Building in Springfield and at its recently completed terminal in Pittston, Pa.
With the blueprints open, Singleton went through the floor plan. The building will have a doctor's office, sleep lab, full-court gymnasium, fitness center with weights, cardio equipment and lockers, instructor-led yoga classes, a salon, spa and steam room.
And that's just the beginning. The facility also will have a large daycare center, full-service restaurant, bunk-bed rooms and showers, driver lounges, laundry room, mail room and company store.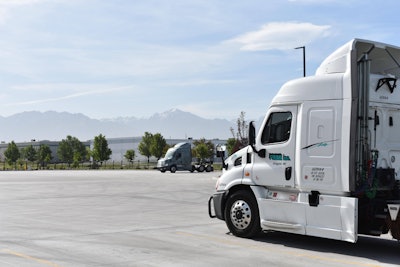 Drivers and their family members can pay for any and all of items and services with payroll and settlement deductions. Prime also has a driver rewards program that drivers can use to exchange points for goods and services.
Drivers earn points in numerous ways that include fueling at Prime locations, during Driver Appreciation Week, and from fleet managers for going above and beyond the call of duty.
"There are a lot of ways a driver can get a free haircut or massage," says Stan Auman, manager of reefer operations and Driver Training Center.
Between 650 and 700 trucks and 500 trailers pass through the facility every week, Singleton says.
"It's basically a driver's house to come through and do whatever he needs to do to get in and out," he adds.
Beyond the amenities, the terminal will have new classrooms and training centers with simulators. Drivers can earn their CDLs here and launch a career with Prime. To earn a CDL with Prime, drivers pay $100 and sign a one-year service contract. The training lasts between 14 and 28 days during which time Prime pays for their hotel, meals and transportation.
Once drivers earn a CDL they start at a guaranteed rate of $700 per week while teamed with a trainer hauling Prime freight. Drivers receive pay raises when they hit mileage thresholds of 125,000 and 250,000, Auman says.
With experience, solo drivers at Prime can expect to earn $1,400 a week and team drivers $2,800, he says.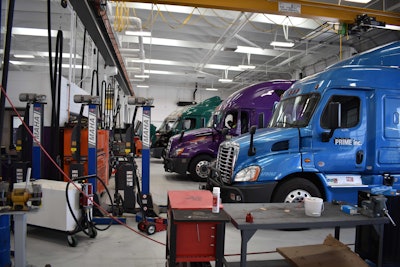 Having a training center in Salt Lake will be helpful to recruit drivers from California, for example, to dramatically cut down on their travel time. Drivers can be in Salt Lake in one day on a Greyhound bus, he said.
The classrooms will also be used for orientation and training for all drivers and contractors.
Auman said Prime's training center in Springfield, Mo., hands out 60 CDLs every week. The company has trained 20,000 drivers since 2002, which has been essential to sustain growth every year, even when drivers are in short supply elsewhere in the industry.
"Our biggest weapon is that we can develop drivers," he says. Prime has a relatively low 48 percent turnover rate for large truckload carriers. The majority of its drivers are independent and leased contractors.