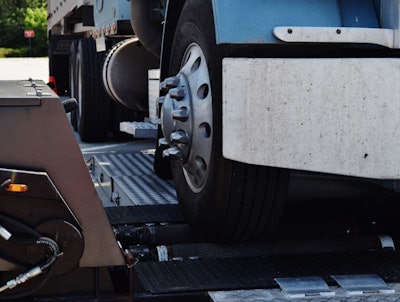 Truck inspectors will ramp up enforcement Sept. 16-22 as part of the Commercial Vehicle Safety Alliance's annual Brake Safety Week.
This year's Brake Safety Week is a return to norm for CVSA, after paring the blitz down to a single day last year.
CVSA says most of the inspections performed during the weeklong blitz will be full Level I inspections, the most comprehensive inspection. However, inspectors will have a keen focus on brake components, including loose or missing parts; air or hydraulic fluid leaks; defective rotor conditions; measurement of pushrod travel; mismatched air chamber sizes across axles; air reservoir integrity and mounting; worn linings, pads, drums or rotors; required brake-system warning devices; and other brake-system components. Vehicles with defective or out-of-adjustment brakes will be placed out of service, says CVSA.
"Properly functioning brake systems are crucial to safe CMV operation. Brakes must be routinely inspected and carefully and consistently maintained so they operate and perform to the manufacturer's specifications throughout the life of the vehicle. Improperly installed or poorly maintained brake systems can reduce braking efficiency, posing serious risk to public safety on our roadways," CVSA said in a press release.
Last year, 14 percent of trucks inspected during the one-day brake blitz were placed out of service for brake-related violations. In the annual Roadcheck inspection spree (which took place earlier this month), brake violations usually comprise the largest percentage of out-of-service violations, CVSA notes.
Also upcoming is Operation Safe Driver week. Scheduled for July 15-21, the weeklong blitz will focus on driver-specific violations such as speeding, use of a seat belt, following too closely and the like.