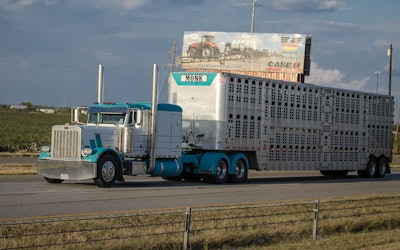 Yet another bill intended to bring about reforms to hours of service and electronic logging rules for drivers hauling livestock and ag commodities has been filed in the U.S. Senate. A duo of legislators last week proposed that the U.S. DOT study "incompatibilities and other challenges and concerns" of hours regs and ELDs relative to livestock/ag truckers and subsequently issue a rule to address its findings.
The Modernizing Agricultural Transportation Act (S. 3051), if passed, would require that the Federal Motor Carrier Safety Administration establish a "working group," as the bill calls it, of representatives from states, the U.S. Department of Agriculture and trade groups and stakeholders within the livestock/ag hauling sector. The group would be tasked with reshaping hours regs and ELD requirements for those hauling livestock and agricultural commodities.
The bill calls for the group to be formed within 120 days of the bill's passage, and that a report be issued within a year of the formation of the group.
The bill, co-sponsored by Sens. John Hoeven (R-N.D.) and Michael Bennet (D-Colo.) is the latest move by lawmakers to call for changes to hours and ELD regs for livestock and insect haulers. Congress in March passed legislation exempting livestock haulers from ELD compliance through September, and a bill likely to come before the House in the coming weeks would extend that exemption through September 2019. FMCSA itself initially provided livestock haulers an ELD compliance waiver through June 2018.
A bill was filed last month in the Senate that would institute a somewhat complicated overhaul of hours of service regulations for livestock/insect haulers. Read about it here.