SBS Group, a supply chain management company, recently acquired a new 440,000 sq. ft. distribution center in the IPT Tacoma Logistics Center to enhance its service area offerings for the ports of Seattle and Tacoma, Wash.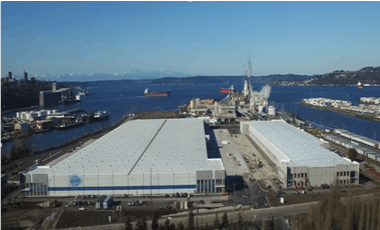 With an expanded service area, SBS plans to begin a dedicated line haul service from Seattle to Minneapolis and Chicago this summer to service its customers off the ports.
The major ports of Seattle and Tacoma are a natural gateway to the USA and Canada, and SBS Group says the new facility will also be providing container cross dock and distribution in the Pacific Northwest.
"Our customer base is extremely diverse. They range from small, family owned businesses that might only distribute a few pallets per year up to multi-billion dollar manufacturing and retail customers that transact thousands of orders per week," said Paul Goff, owner and CEO of SBS Group. "As clients' supply chains become longer and more complex, speed to market is becoming the difference between surviving and prospering. While there are many 'warehouse' operations in the Pacific Northwest, SBS recognized the need for globally-thinking supply chain distribution in the region. So, we're excited to offer a best-in-class operation in Seattle/Tacoma – including facilities and technology – to help our customers continue to thrive."
SBS has more than 20 years of experience with handling vendor managed inventory (VMI), CFS operations, final mile distribution, cross dock, e-commerce, upfit services, cartage and trucking for global customers in manufacturing and retail segments.