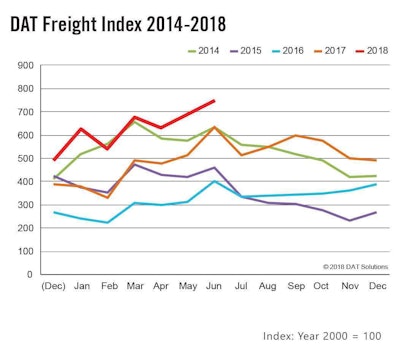 Freight availability on the DAT load boards set a new record in June, the firm reported in its monthly DAT North American Freight Index, with freight demand climbing 9.3 percent from May. Compared to the same month last year, freight demand was up 18 percent, DAT reported.
Swelling demand, combined with the industry's lingering capacity shortfall, pushed rates to record levels on the spot market, DAT reported. What's more, contract rates have grown at an accelerated pace in response to the industry's supply and demand imbalance.
"While contract rates typically rise after a sustained increase in spot market rates, there is usually a lag of four to six months. This year, that lag time is reduced to a few weeks," says Mark Montague, pricing analyst at DAT. Contract rates increased 19 percent for vans compared to June 2017, but spot market rates rose by 29 percent during the same period, he said.
"June capped an unprecedented 15-month run of spot market rate increases, the longest sustained period of pricing power for truckers since deregulation."
Compared to June 2017, spot van rates soared 52 cents per mile, reefers surged 58 cents and flatbeds shot up 65 cents, DAT reported.
Truckstop.com, another load board that tracks spot market freight demand and rates, has reported similar gains over the past year.