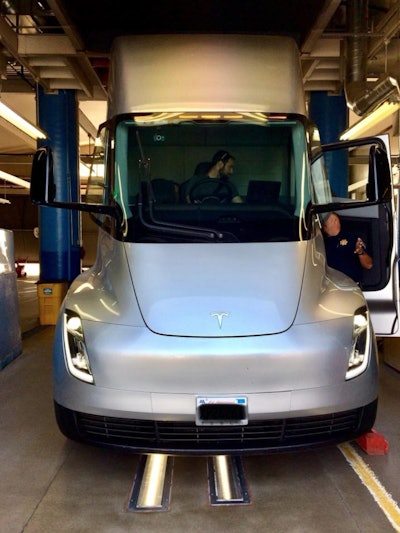 The California Highway Patrol has gotten plenty of attention after posting pictures and comments of a Tesla Semi that went through its Donner Pass inspection station recently in Truckee, Calif.
CHP's Facebook page had over 500 comments, including some questions about the silver Semi.
"Donner Pass, what do you all think about the Tesla?" one Facebook user asks.
"Very easy to inspect and very clean," CHP responds.
In answering a similar question, CHP writes: "We like it. Very clean."
CHP noted the truck passed its Aug. 10 inspection.
According to CCJ sister site Hard Working Trucks, the Tesla under inspection in CHP's photos is likely the rig that was en route from Tesla's Fremont, Calif., headquarters to the company's Gigabit battery plant in Sparks, Nevada. Truckee is just 36 miles west of Sparks on I-80.
Tesla CEO Elon Musk has reported that the Semi will be available with a range of up to 600 miles. It's expected to enter production next year.